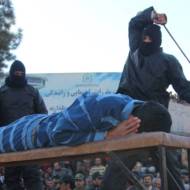 Iran: 80 Lashes Given to 'Zionist' Christian Who Sipped Communion Wine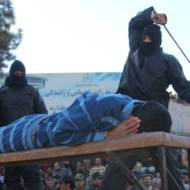 Iran's tiny Christian population remains persecuted by the government, which especially targets converts.
By Yakir Benzion, United With Israel
An Iranian Christian was whipped at a prison as punishment for having been caught drinking communion wine, the Iran Human Rights Monitor reported Tuesday.
Zaman Fadaei was lashed 80 times on November 15 at Shahid Moghadas Court next to the infamous Evin Prison where according to IRHM, Fadaei is serving a multi-year sentence for the crime of organizing house churches and promoting 'Zionist' Christianity.
The human rights group said Iran Ministry of Intelligence agents targeted a house church ceremony on May 13, 2016, where they arrested four Christian converts and one of their wives.
Zaman Fadaei, along with Yousef Nadarkhani, Youhan Omidi, and two other members of "Church of Iran" were arrested in May 2016 and were tried in June 2017 on charges of "acting against the national security through propagating house churches and promoting Zionist Christianity," the organization reported and each received a 10 year prison sentence.
Although an initial appeal was turned down, a subsequent review earlier this year managed to reduce Fadaei's sentence and that of Pastor Yousef Nadarkhani and Zaman Fadaie to only six years.
Last month another Iranian Christian convert, Mohammad Reza Omidi, was also caught and sentenced to 80 lashes for drinking communion wine.
Christians account for less than 0.3% of Iran's 85 million people, of whom 99.4% are Muslims.
According to the IRHM, Iran jails many of its Christian citizens simply for practicing their faith. Often when the Christians are released from prison they are sent into internal exile in remote locations of the Islamic Republic and not allowed to return home for several years.
The organization Reporters Without Borders describes Iran as "one of the world's most repressive countries."
"This year, a human rights watch group ranked Iran as the 9th worst place to live for Christians, because … churches in Iran are routinely raided and Christians are targeted for arrest simply because they are living out their faith in community with others," says the European Center for Law and Justice.
The Washington-based Freedom House organization, which monitors freedoms around the world, ranks Iran among the worst countries for freedom.
"There is an ongoing crackdown on Christian converts; in the past several years, a number of informal house churches have been raided and their pastors or congregants detained," Freedom House said in its 2019 report.
HELP ISRAELIS BATTLE CORONA!
Donate to the Corona Emergency Relief Fund. Coronavirus has taken a huge toll on the people of Israel. The poor, elderly and ill are most vulnerable.

Israeli soldiers, security officers and medical care providers operate under great danger and risk to life.

Over 1 million Israelis are out of work. Many cannot make ends meet. We provide financial aid, food, medical supplies and more. Funds are distributed where needed most. The time to act is now!
The post Iran: 80 Lashes Given to 'Zionist' Christian Who Sipped Communion Wine first appeared on United with Israel.

United with Israel