IDF is Locked and Loaded; Netanyahu Warns Lebanon and Syria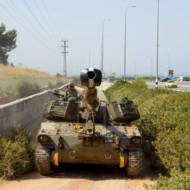 Israel warns Hezbollah, Syria that any attack will not be tolerated after Hezbollah threatens military action and Israeli car hit by Syrian shell.
By Yakir Benzion, United With Israel
Prime Minister Benjamin Netanyahu on Sunday warned Iran, Syria and the Hezbollah terror group in Lebanon not to mess with Israel, following a cross border incident last week with Syria and threats by Hezbollah to attack.
The IDF said it was prepared for an "imminent" attack by Iran-backed Hezbollah terrorists in revenge for the death last week of a Hezbollah mercenary who was killed in an alleged Israeli air strike in Syria. On Friday, Israeli helicopters retaliated after an Israel civilian car was damaged by fire from the Syrian side of the border. There were no Israeli injuries reported.
"We are acting according to our consistent policy of not allowing Iran to entrench militarily on our northern border," Netanyahu said at the Sunday cabinet meeting.
"Lebanon and Syria bear the responsibility for any attack against Israel emanating from their territories. We will not allow our security to be undermined; neither will we allow our citizens to be threatened," the prime minister said.
"We will not tolerate attacks on our forces. Together with the Defense Minister and the Chief-of-Staff, I am holding ongoing assessments of the situation. The IDF is prepared to respond to any threat," Netanyahu warned.
Friday's incident narrowly avoided tragedy when a Syrian shell exploded in the Israeli Druze town of Majdal Shams on the Syrian border.
A local resident named Shadi told Walla News that he was surprised to hear a loud explosion near his home and discovered that his car parked outside his home had been hit by shrapnel. One of the wheels of the vehicle exploded and the surroundings of his house were filled with shrapnel from the shell.
"We were very lucky," Shaid said. "My mother had just entered the house and the shrapnel did not hit her."
The military preparations come on the history of Hezbollah having acted on its word to carry out revenge attacks on Israel in the past after Hezbollah fighters were killed in alleged Israeli attacks in Syria, where Hezbollah is helping to keep Syrian dictator Bashar Al-Assad in power.
For its part, Israel is sending messages of both calm and warnings to Lebanon, Ynet reported, speculating that the IDF is expecting an attack, albeit a "minor one."
"There's no need for panic, we just hope, for Hezbollah's sake, that they will think hard before the next provocation," local official Moshe Davidovich said.
JOIN US IN PLANTING FRUIT TREES IN THE LAND OF ISRAEL!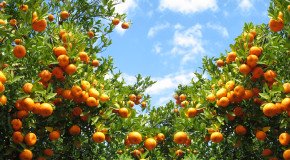 ISRAEL'S SUMMER PLANTING SEASON IS RIGHT NOW!

Make the Land of Israel even more beautiful and fruitful while helping Israeli farmers to recover from financial losses due to coronavirus and destructive Hamas arson fires.

"…for the Lord your God is bringing you into a good land… a land of wheat and barley, vines, figs and pomegranates, a land of olive oil and honey"
(Deuteronomy 8:7-8)


United with Israel