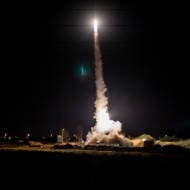 IDF Bombs Hamas Targets in After Rocket Attack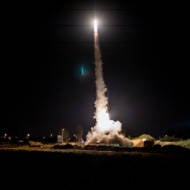 The launch came hours after troops from the Golani Reconnaissance unit killed three armed terrorists during a raid in Jenin.
By Aryeh Savir, TPS
The IDF bombed Hamas targets in the Gaza Strip on Saturday after Gazan terrorists launched a rocket toward Israel.
Terrorists fired a rocket from Gaza toward the city of Ashkelon on Friday night. The rocket was intercepted mid-air by an Iron Dome defense battery.
This was the first rocket attack from Gaza in two months and the first attack on the 100,000 people in the city of Ashkelon since operation Guardian of the Walls a year ago.
In response, IDF aircraft struck a weapons manufacturing site and three other Hamas military posts in Gaza.
"We hold the Hamas terrorist organization responsible for all terrorist activity emanating from Gaza," the IDF stated.
The launch came hours after the troops from the Golani Reconnaissance unit killed three armed terrorists during a raid in Jenin. The terrorists opened fire from a car at the troops, who were in armored vehicles. The soldiers disembarked and shot the three at close range.
Following a security assessment held Saturday night, Defense Minister Benny Gantz decided to freeze the increase in the quota of work and trade permits for Arabs living in the Gaza Strip, which was increased by another 2,000 last week.
"The terrorist organization Hamas bears responsibility for everything that is done in and out of the Gaza Strip towards the State of Israel and it will bear the consequences," he stated.
Do You Love Israel? Make a Donation to Show Your Support!
Donate to vital charities that protect Israelis and help inspire millions around the world to support Israel too!
Now more than ever, Israel needs your help to fight – and win – the battle of public opinion.
Anti-Israel bias and boycotts are out of control. Israel's enemies effectively use social media to incite brutal terror against innocent Israeli civilians. Please help us fight back!
The post IDF Bombs Hamas Targets in After Rocket Attack first appeared on United with Israel.
United with Israel