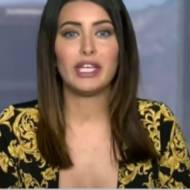 'How Dare You?' Iraqi Beauty Queen Scolds Mandela's Grandson Over BDS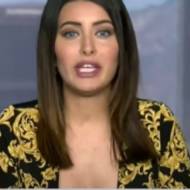 According to South African media reports, organizers of the Miss South Africa tournament are distancing themselves from Mandela's vicious lies about the Jewish state.
By Pesach Benson, United With Israel
Glitz and glamor are coming to Israel in December as Eilat hosts the 2021 Miss Universe pageant. Women from around the world will vie for the crown in a contest expected to draw 600 million viewers. It's the first time the competition is being held in the Middle East.
Of course, no international event can happen in Israel without criticism from the Boycott, Divestment and Sanctions movement. But a call from Nelson Mandela's grandson to boycott the pageant was met with a fierce scolding from — of all people — a former Iraqi beauty queen. And Miss South Africa was curiously silent.
On October 19, Inkosi Zwelivelile "Mandla" Mandela, the 47-year-old grandson of Nelson Mandela, took to Instagram to urge countries to boycott the Israel-hosted pageant. Mandela inherited the position of tribal chief of the Mvezo Traditional Council and is a member of the South African parliament.
In a statement, he praised announcements by Miss Indonesia and Miss Malaysia to boycott the tournament and then denounced Israel as an "apartheid state."
"Daily Apartheid Israel violates the fundamental human rights of the Palestinian people and commits crimes against humanity," Mandela wrote.
"Israel is an apartheid State and persists in its heinous occupation and expansion of its illegal settlements in violation of international law. We must persist in isolating Apartheid Israel in the same way that we isolated Apartheid South Africa."
While South Africans overwhelmingly support the Palestinians, some key activists, such as Kenneth Meshoe, bristle at the apartheid analogy. The comparison, they say, is dishonest and cheapens the suffering of blacks who lived under strict racial segregation.
According to South African media reports, organizers of the Miss South Africa tournament are distancing themselves from Mandela's statement. A terse statement by the organizers said, "The Miss South Africa organisation is not getting involved in a political war of words and has no further comment to make."
Reports also note that Lalela Mswane, who was crowned Miss South Africa last week, is facing heavy pressure not to attend. A 24-year-old former ballerina, Mswane has not indicated whether she plans to compete in Eilat. Her views on the Mideast conflict are not known.
Miss Iraq Speaks Out
Former Miss Iraq Sarah Idan called out Mandela in a video posted on Twitter. During the 2017 pageant, Idan made headlines by posting a selfie with her new friend, Miss Israel — Adar Gandelsman. For that, she was labelled a traitor by many Iraqis.
Idan has since visited Israel and spoken out at the United Nations about Jewish refugees from Arab countries. A musician, she also has U.S. citizenship and currently lives in Los Angeles.
"All I can say is, how dare you? How dare you as a man try to tell an organization for women and women empowerment what to do? This is an opportunity that millions of women dream of having — to go on world stage and represent their people, their nation, their culture. Not governments, not politics, and definitely not your political agenda," Idan said in her rebuke to Mandela.
"The term you used to attack Israel, in calling it apartheid, is a term only being used by radical Islamists, terrorist organizations, such as Hamas, Taliban and the Iranian regime — all of them who hate women and women's rights. Please allow Miss South Africa to go and experience Israel up close on the ground and let her be the judge for herself."
"And I'm positive, just like me, she will be shocked to see that the Israeli government consists of Muslims, Jews, Arabs, Christians. And those people, not only they get to vote on policies to shape their future, but they're also part of the Knesset and they also have political parties — and some of them are even Israeli ambassadors to the world."
"Last but not least, I would like to congratulate the new Miss South Africa, and I hope that she will enjoy her trip and learn not only about Israel but about all these beautiful other countries. This is what the Miss Universe pageant is all about. And I hope to see you there soon."
Idan's video has more than 63,000 views.
Why Israel is Hosting the Pageant
This year's competition comes on the heels of the 2020 pageant, which was delayed by COVID-19 restrictions and held instead in May 2021. That contest, held in Miami, was won by Andrea Meza of Mexico.
Paula Shugart, president of the Miss Universe Organization, told the Jerusalem Post that Israel's response to the coronavirus pandemic was the main reason it was selected to host the event.
Crediting Israel's vaccination campaign, Shugart said, "We decided if we were going to hold the competition outside of the US, it would be in a country that has handled the virus well."
So far, 3.9 million Israelis have received three vaccinations against COVID-19 and another 5.7 million have received two. With the number of active cases down to 8,526, Health Ministry officials are cautiously optimistic.
Sixty countries, including the United Arab Emirates and Morocco, have already confirmed their participation. The UAE has never participated in the pageant, while Morocco will be competing for the first time in 43 years. Organizers expect women from 90 countries will participate.
Israel will be represented in the competition by Noa Cochva, a 22-year-old former IDF medics commander and aspiring pediatrician.
Do You Love Israel? Make a Donation to Show Your Support!
Donate to vital charities that protect Israelis and help inspire millions around the world to support Israel too!
Now more than ever, Israel needs your help to fight – and win – the battle of public opinion.
Anti-Israel bias and boycotts are out of control. Israel's enemies effectively use social media to incite brutal terror against innocent Israeli civilians. Please help us fight back!
The post 'How Dare You?' Iraqi Beauty Queen Scolds Mandela's Grandson Over BDS first appeared on United with Israel.
United with Israel