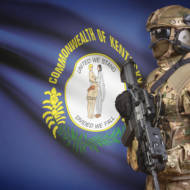 Hitler Quotes in Kentucky Police Training Manual Endorse Violence

Governor blasts state police after high school newspaper uncovers police training guide includes quotes from Mein Kampf.
By Yakir Benzion, United With Israel
Never underestimate the power of the press, especially when it's in the hands of capable students.
The Manual RedEye news website from the duPont Manual High School in Louisville, Kentucky, revealed Friday that the Kentucky State Police has been using a training manual that includes quotes from Nazy tyrant Adolph Hitler encouraging the use of violence.
"A training slideshow used by the Kentucky State Police (KSP) — the second largest police force in the state — urges cadets to be 'ruthless killer[s]' and quotes Adolf Hitler advocating violence," the Manual RedEye reported.
The report reproduced many of the offending slides from the police manual that included at least three quotes from infamous Nazi leader Adolph Hitler. Among the quotes from his book Mein Kampf was: "The very first essential for success is a perpetually constant and regular employment of violence."
That brought an angered response from Kentucky Governor Andy Beshear, who issued a statement calling the police manual "absolutely unacceptable."
"It is further unacceptable that I just learned about this through social media. We will collect all the facts and take immediate corrective action," the governor said.
It "is unacceptable that this material was ever included in the training of law enforcement," said Morgan Hall, the Communications Director for the Kentucky Justice and Public Safety Cabinet. "Our administration does not condone the use of this material. The material is not currently a part of any training materials and was removed in 2013," Hall said.
Reporters for the Manual Redeye obtained the PowerPoint file as part of a report investigating police training following a fatal shooting in 2018.
According to the student news outlet, one slide, titled "Violence of Action," instructed officers to be "ruthless killer[s]," to have a "a mindset void of emotion" and to "meet violence with greater violence."
During a period of intense scrutiny of police actions, Congressman John Yarmuth, who represents Kentucky's 3rd district, was enraged over the use of the Hitler quotes encouraging police violence and fired his own broadside.
"I am angry. As a Kentuckian, I am angry and embarrassed," Yarmuth tweeted. "And as a Jewish American, I am genuinely disturbed that there are people like this who not only walk among us, but who have been entrusted to keep us safe. There needs to be consequences."
"And don't give us the 'it's a few bad apples' excuse," Yarmuth said. "This is a poisonous culture that has gotten too many innocent people harassed and killed, and we refuse to stand for it any longer."
HELP ISRAELIS BATTLE CORONA!
Donate to the Corona Emergency Relief Fund. Coronavirus has taken a huge toll on the people of Israel. The poor, elderly and ill are most vulnerable.

Israeli soldiers, security officers and medical care providers operate under great danger and risk to life.

Over 1 million Israelis are out of work. Many cannot make ends meet. We provide financial aid, food, medical supplies and more. Funds are distributed where needed most. The time to act is now!
The post Hitler Quotes in Kentucky Police Training Manual Endorse Violence first appeared on United with Israel.

United with Israel