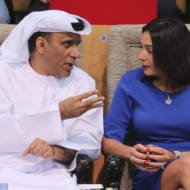 Historic Announcement: Israel Establishes Official Ties with United Arab Emirates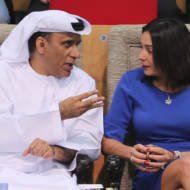 "Huge breakthrough today," tweeted President Donald Trump on Thursday. "Historic Peace Agreement between our two GREAT friends, Israel and the United Arab Emirates!"
By United with Israel Staff
On Thursday, U.S. President Donald Trump announced that Israel and the United Arab Emirates (UAE) have agreed to establish full diplomatic relations.
The announcement represents a major milestone for the Jewish state and could be a diplomatic tipping point in the Middle East.
While Israel and several of the Gulf states, including UAE, Saudi Arabia, and Bahrain, have enjoyed warming ties for years, none of these countries have formalized their relations by openly declaring a diplomatic relationship with Israel.
Indeed, UAE is the first Gulf state to establish open relations with Israel, joining Arab nations Jordan and Egypt, each of which has had treaties with Israel for decades.
According to a joint statement issued by Israel, UAE, and the U.S., the parties will sign agreements on security, direct flights, tourism, and energy, among other areas, including the battle against the coronavirus.
"Opening direct ties between two of the Middle East's most dynamic societies and advanced economics will transform the region by spurring economic growth, enhancing technological innovation and forging closer people-to-people relations," said Trump's statement.
Trump called the announcement "a truly historic moment," adding, "Now that the ice has been broken I expect more Arab and Muslim countries will follow the United Arab Emirates."
While UAE reportedly took the step in exchange for Israel agreeing to abandon its plan to extend sovereignty over Jewish communities in Judea and Samaria, a member of Israeli Prime Minister Benjamin Netanyahu's Likud party, Shlomo Karhi, denied to local media that Israel was abandoning the sovereignty push.
Karhi claimed sovereignty "will happen."
Palestinian leadership fumed after the announcement, with the Hamas terror group accusing UAE of "stabbing [our people] in the back," The Associated Press reported.
Senior Palestinian official Hanan Ashrawi blasted UAE for its "secret dealings/normalization with Israel."
U.S. Secretary of State Mike Pompeo spoke highly of the deal, declaring, "Blessed are the peacemakers. Mabruk and Mazal Tov," using both Arabic and Hebrew.
Pompeo commented, "This is a remarkable achievement for two of the world's most forward leaning, technologically advanced states, and reflects their shared regional vision of an economically integrated region."
Pompeo concluded, "It also illustrates their commitment to confronting common threats, as small — but strong — nations."
HELP ISRAELIS BATTLE CORONA!
Donate to the Corona Emergency Relief Fund. Coronavirus has taken a huge toll on the people of Israel. The poor, elderly and ill are most vulnerable.

Israeli soldiers, security officers and medical care providers operate under great danger and risk to life.

Over 1 million Israelis are out of work. Many cannot make ends meet. We provide financial aid, food, medical supplies and more. Funds are distributed where needed most. The time to act is now!

United with Israel