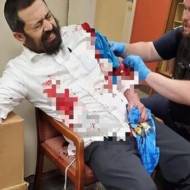 'Hate Can't Stop Us': Boston's Jewish Center Fights Back After Stabbing

The incident is a reminder to "embrace each other and our history," says Lori Palatnik of the Jewish organization Momentum.

By Deborah Fineblum, JNS.org
No one ever expected a pile of Gan Israel camp T-shirts to be used to stop the bleeding of one of the campers' teachers—certainly not Rabbi Shlomo Noginski himself.
But on July 1, that was exactly the function they served. The Chabad-Lubavitch rabbi had been taking a call on the front steps of the Shaloh House Jewish Russian Center & Synagogue (doubling as a summer camp at this time of year) in the working-class Boston neighborhood of Brighton when a man walked up to him brandishing a gun and demanding to be taken to the rabbi's car. After realizing that the attacker had every intention of shoving him into the car—he'd refused the offer of the keys—the rabbi ran to the park across the street in an effort to escape and put some distance between the gunman and the 100 young campers playing inside.
The assailant gave chase, producing a knife and stabbing the rabbi eight times in all—in his shoulder, ribs and arm before taking flight as passersby began to notice the attack in broad daylight in the middle of the busy neighborhood.
Khaled Awad, a 24-year-old native of Egypt who was reportedly admitted to the United States on a student visa but now appears to be staying illegally, was apprehended. Though Awad—known to spout hate against Jews and others—was initially charged with assault and battery by means of a dangerous weapon, and assault and battery on a police officer, charges of committing a hate crime have now been added.
Including this latest charge is a positive sign, says famed attorney Alan Dershowitz, also an emeritus professor at Harvard Law School whose most recent book is The Case Against the New Censorship: Protecting Free Speech from Big Tech, Progressives and Universities. "Even overt anti-Semitic acts are not always handled by the police as hate crimes," he says. "But if it's hate when a white person attacks a black person because he's black, why is the criteria different when a black person or an Arab attacks a Jew because he's a Jew? Why the double standard? When someone attacks a total stranger who's visibly Jewish, the presumption has to be it's a hate crime."
It's harder to get an indictment of a hate crime in part because of all the evidence of hate must be collected to get a conviction, says Benjamin Ryberg, chief operating officer and director of research for the Lawfare Project, a network of 500-plus attorneys giving pro bono legal services to Jews confronted with anti-Semitism.
One recent case: After coming to the defense of a religious Jew, a young woman was attacked on the New York subway by a woman screaming anti-Semitic hate and scratching her face. "At first, the district attorney did not want to call it a hate crime," says Ryberg. "It took a lot of convincing to get it classified as one."
'A wake-up call for everyone'
This violent show of hate has cast the usually quiet Shaloh House synagogue and day school community of mostly Russian families (hence the school's prize-winning chess and math programs) in the bright glare of public attention. Letters of support from people of all faiths and many different countries have poured in, and there was even a visit from the New England Patriots football team owner Robert Kraft and his son.
This sudden high-profile status is all very new to the rabbi's boss, Rabbi Dan Rodkin, who has, for more than 20 years, run the no-frills Shaloh House out of a 120-year-old brick edifice.
Like Noginski, Rodkin grew up breathing the chilly anti-Semitic air of the former Soviet Union. "In Russia, we knew we were second-class citizens because of the jobs we couldn't get and the universities we couldn't go to," says Rodkin.
Moving to the United States at age 19, he thought he'd put anti-Semitism behind him for good. "But there is one difference: In Russia, it was the people and the government, but in America so far, it's still mostly anti-Semites who are the problem," he explains. "But since soon there will be more Muslims than Jews here, and with pressure from the media and left-wing groups, the government could follow. That's why what happened here is a wake-up call for everyone."
According to the Anti-Defamation League's most recent "Audit of Antisemitic Incidents," the United States saw more than 2,100 reported acts of assault, vandalism and harassment—up 12 percent over the previous year. This represents the highest level of anti-Semitic incidents in the 42 years that ADL has been reporting on them.
Shortly before his passing last year, Rabbi Lord Jonathan Sacks, alarmed by the rise in anti-Semitism in both Europe and North America, wrote: "The shocking events in Monsey, together with those in Jersey City, Poway, Pittsburgh and elsewhere, are proof that the darkness has returned. It has returned likewise to virtually every country in Europe. That this should have happened within living memory of the Holocaust, after the most systematic attempt ever made by a civilization to find a cure for the virus of the world's longest hate—more than half a century of Holocaust education and anti-racist legislation—is almost unbelievable. It is particularly traumatic that this has happened in the United States, the country where Jews felt more at home than anywhere else in the Diaspora. Why is it happening now?"
'A disinhibition effect'
Indeed, the image of the bloodied rabbi wincing in pain raises the questions afresh: Why now? Why here?
As founding director of Momentum, an organization devoted to inspiring women with Jewish values of their heritage, Lori Palatnik recently got a call from a woman who told her the latest uptick in anti-Semitism prompted her to pull out the Jewish star necklace she hadn't worn since high school and put it on.
But others, says Palatnik, are not as quick to embrace their Jewish selves. "We have two ways we can learn the lesson that we need to be strong, united and understand what our history is teaching us: the easy way and the hard way. When I heard about the rabbi being attacked in Boston, I thought, 'Oh no, it looks like we're going to have to learn it the hard way.' "
Laying much of the blame with "a political climate that makes people feel freer to express Jew-hatred," Palatnik also cites "a pandemic that brought with it so much fear of the unknown, of financial and personal loss."
Dershowitz points to a "double standard—that racism is bad but anti-Semitism is OK—combined with a strong left that tolerates and often encourages anti-Semitism dressed up as anti-Zionism, we're seeing a divided country that's changing in some dangerous ways."
Ryberg also blames a mainstream media "that turns a blind eye to anti-Semitic incidents," as well as such social-media giants as Facebook, Twitter and Instagram, "for their failure to treat anti-Semitic content with the same rigor as they would hate against other minorities." Add that to a university system "where Jewish students are increasingly unsafe, and that gives tacit approval to Jew-hatred masked as anti-Zionism."
As the late Sacks wrote, the Internet and social media "have what is called a 'disinhibition effect.' People are far more hateful when communicating electronically than when speaking face-to-face," which makes cyberspace "the most effective incubator of resentment, rancor and conspiracy theories ever invented."
As Sacks points out, "anti-Semitism, or any hate, becomes dangerous in any society when three things happen: when it moves from the fringes of politics to a mainstream party and its leadership; when the party sees that its popularity with the general public is not harmed thereby; and when those who stand up and protest are vilified and abused for doing so. All three factors exist in Britain now. The same must not be allowed to happen in America."
Something good will comes from this
In that spirit, and in response to what he terms "the increasingly commonplace" incidence of anti-Semitism, Dershowitz is announcing a new organization: "Hit a Jew and We Sue You," a group of lawyers willing to file civil cases against attackers.
"Just because a legal case is underway, it doesn't mean there can't be a civil case, too," he notes. "Our goal is to take everything they have, even their beat-up old car. The message has to be: 'It's expensive to attack a Jew.' "
And reasoning that the best response to hate is a show of love, over at the Shaloh House they've already begun raising money to build a new rabbinical training program near their current building—eight students a year, one for each stabbing Noginski survived. "Early in their training, they'll already be teaching in the community, spreading light in place of the darkness," says Rodkin. "The rabbi got stabbed eight times, and this way, something good will come from this."
The program is geared for yeshivah students in the United States seeking to be part of Chabad's global outreach initiatives, as well as those in the immediate community who want to study for rabbinic ordination.
Nearly a month after the stabbing, the rabbi continues to heal (the doctors called it miraculous that the knife used didn't hit any major arteries), and the accused suspect remains under observation for mental illness.
The incident is a reminder to "embrace each other and our history," says Palatnik. "What breaks my heart are the Jews who turn their backs on Israel and the Jewish people not because of what they know but what they don't know, what they never learned," she says. "So now at a time in our history when no Jew is imprisoned; our only prison is ignorance of our own history. Now it's no longer 'let my people go.' Now it's got to be 'let my people know.' "
"Each of us has to fight this thing with whatever we happen to have," says Dershowitz. "For Chabad, it's lighting a candle by training more rabbis. But I'm too old to beat them up, so the only thing I have to fight with is the law."
Or as Ryberg puts it: "We all need to turn up the heat under our universities, law enforcement, congressional representatives, the media and social media to call out anti-Semitism in whatever form we see it until it's unacceptable in polite society.
"As active as the Jews have been standing up for the civil rights of other people, now we have to fight for the civil rights of our own people," he adds. "And to remember that these rights are not mutually exclusive."
"We have to show the world that we are not afraid, that hate can't stop us, and the Jews are just going to get prouder and stronger," adds Rodkin. "If something good can come from it—if we are able to put aside our differences and realize we are all Jews in this world together—maybe in the future, we won't need such pain to teach us to do good."
Do You Love Israel? Make a Donation to Show Your Support!
Donate to vital charities that protect Israelis and help inspire millions around the world to support Israel too!
Now more than ever, Israel needs your help to fight – and win – the battle of public opinion.
Anti-Israel bias and boycotts are out of control. Israel's enemies effectively use social media to incite brutal terror against innocent Israeli civilians. Please help us fight back!
The post 'Hate Can't Stop Us': Boston's Jewish Center Fights Back After Stabbing first appeared on United with Israel.
United with Israel