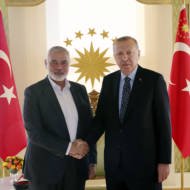 Hamas Terrorists Plot Attacks from Istanbul, Turkey Grants Them Citizenship

UK newspaper reports at last 12 senior Hamas terrorists are using Turkey as a base of operations.
By Yakir Benzion, United With Israel
Turkey is giving citizenship to the members of a Hamas terrorist cell so that they can use Turkey as a base to launch attacks not just against Israel, but targets around the world, The Telegraph newspaper in London reported.
Unnamed sources gave The Telegraph Turkish documents showing that at least one of the 12-person Hamas terror cell received Turkish citizenship and an 11-digit identity number.
Another seven members of the cell received Turkish citizenship and passports, while the other five are in the process of receiving them, the report said, adding some of the Hamas terrorists are living under fake Turkish aliases.
Both the U.S. and U.K. have listed Hamas as a terrorist group, while Turkey, despite being a NATO member, calls the group a legitimate political movement and provides it with assistance and shelter.
"These are not foot soldiers but the most senior Hamas operatives outside of Gaza. [They] are actively raising funds and directing operatives to carry out attacks in the present day," an unnamed source told The Telegraph.
"The Turkish Government gave in to pressure by Hamas to grant citizenship to its operatives, thereby allowing them to travel more freely, endangering other countries that have listed Hamas as a terror group," the source said.
Turkish citizenship gives the Hamas members visa-free travel to many countries and hide the fact that the men are actually Palestinians who belong to a deadly terrorist organization that has a policy of attacking Israeli civilians.
The Turkish government refused to answer the allegations in the article, with a spokesman saying they were "baseless claims against Turkey by a foreign government.
A senior Hamas official denied the allegations, insisting that its members did not operate outside the Palestinian territories and had no role in terrorist activity.
However, last year the U.S. Department of the Treasury announced that it had sanctioned a list of terror leaders from several organizations, including a Hamas terrorist already working in the vast operation the terrorist group has established in Turkey with the blessings of Turkish leader Recep Tayip Erdogan.
It is known that Hamas has a headquarters in Turkey that focuses on military buildup and terrorism with divisions responsible for procurement, development and recruitment.
The revelation of Turkish citizenship for Hamas terrorists comes after a Telegraph investigation revealed that Turkey has been hosting senior Hamas figures who are planning attacks from Istanbul, including an assassination plot against the mayor of Jerusalem.
Hamas leader Ismail Haniyeh traveled to Turkey via Egypt and met over the weekend with Erdogan, their second face-to-face meeting in the past year.
Most of the 12 Hamas members in question were released from Israeli prisons in the 2011 exchange for an IDF soldier taken hostage named Gilad Shalit. A condition of the terrorists' release was their commitment not to engage in terror activities again.
Turkish support for Hamas and Erdogan's anti-Semitic comments have strained diplomatic relations with Israel, which has repeatedly voiced concerns about Hamas operating from Turkish soil.
HELP ISRAELIS BATTLE CORONA!
Donate to the Corona Emergency Relief Fund. Coronavirus has taken a huge toll on the people of Israel. The poor, elderly and ill are most vulnerable.

Israeli soldiers, security officers and medical care providers operate under great danger and risk to life.

Over 1 million Israelis are out of work. Many cannot make ends meet. We provide financial aid, food, medical supplies and more. Funds are distributed where needed most. The time to act is now!

United with Israel