Hamas Furious that PA Caved and Restored Ties with Israel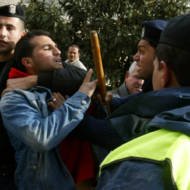 The Hamas terror group is fuming over the Palestinian Authority's decision to restore ties with the Israeli government.
By Ezra Stone, United with Israel Staff
After a senior Palestinian official announced Tuesday that the Palestinian Authority (PA) is restoring ties with Israel, the Hamas terror group in Gaza denounced the move as a betrayal of "national values and principles."
The PA's announcement means it will again engage in security coordination with Israel after claiming it ended all cooperation six months ago.
Even after the PA said it cut off coordination with Israel, sources within each sides' security establishment cast doubt on whether all cooperation had actually been severed.
In Hamas' reaction to the PA announcement on Tuesday, quoted by the Walla news site, the brutal terror group trotted out all of its classic anti-Israel tropes, referring to the "occupation" and "annexation" and slamming any "normalization" with the Jewish state.
On Tuesday, senior Palestinian official Hussein al-Sheikh, a top aide to President Mahmoud Abbas, tweeted "the relationship with Israel will return to how it was" following "official written and oral letters" from Israel, the Associated Press reported.
Abbas announced a cessation in coordination in response to Israel's plans to officially extend sovereignty over Jewish communities in Judea and Samaria.
THE DREAM RAFFLE – Win a Luxury Jerusalem Home!
THE CITY. THE DREAM. THE CHANCE OF A LIFETIME!
Your brand new Million Dollar Jerusalem apartment with an awesome view of the Temple Mount is just a few clicks away.
The keys to a luxury Jerusalem apartment can be yours forever.
And at the same time support great causes like United with Israel!
The Dream Raffle may sound too good to be true… but it is real. Enter now before it's too late!
The post Hamas Furious that PA Caved and Restored Ties with Israel first appeared on United with Israel.

United with Israel