Good News Israel! Running for Israel in Antartica; The World's 'Ugliest' Building Brings Tourists to Tel Aviv; and More!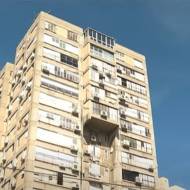 Running in Antarctica for Israeli education, Israeli musicians perform in London, "brutalist" tourist site, and much more!
By Michael Ordman
CULTURE, ENTERTAINMENT & SPORT
The world's ugliest building
The Nachum Tower in Tel Aviv has been voted by users of social media site Reddit as the world's ugliest building. Built in the "brutalist" style during the post-1948 demand for high-rise buildings, it now is enjoying fame as a tourist attraction for its "beauty in the beast".
Running in Antarctica for Israeli education
Israel's Eyal Shimoni ran the Antarctica leg of the Racing the Planet 4 Deserts Ultramarathon. He raised funds for Israeli NGO Yadid Lachinuch, with 2,800 retired Israeli volunteers helping teachers in over 490 Israeli schools. Eyal is now training to run in Chile.
https://www.yadidla.org.il/yadid-lachinuch
https://www.israel21c.org/after-antarctica-israeli-ultramarathoner-trains-for-chile/
Jerusalem orchestra in London
The Jerusalem Orchestra East West featuring Mehdi Nassouli & Koyos is performing at 7.30pm on Sunday 5 Feb at the Barbican in London.
https://www.barbican.org.uk/whats-on/2023/event/jerusalem-orchestra-east-west
Take a walk on Jerusalem's streets
Israel's capital is full of traffic, tourist buses, international conferences, and (of course) construction.
http://rjstreets.com/2023/01/08/in-jerusalem-take-a-walk-hard-to-believe-whats-new/
Jerusalem's Armenian Museum
The Mardigian Armenian Museum is housed in a 19th century building in Jerusalem's Old City and has just reopened after a 5-year renovation. Jerusalem is home to a community of some 6,000 Armenians and the museum is preserving their history and culture.
https://www.timesofisrael.com/jerusalem-museum-showcasing-armenian-history-reopens-after-5-year-renovation/
https://video.i24news.tv/#/content/6318806491112
CLICK HERE FOR THIS WEEK'S GOOD NEWS FROM ISRAEL ARCHIVE
Do You Love Israel? Make a Donation to Show Your Support!
Donate to vital charities that protect Israelis and help inspire millions around the world to support Israel too!
Now more than ever, Israel needs your help to fight – and win – the battle of public opinion.
Anti-Israel bias and boycotts are out of control. Israel's enemies effectively use social media to incite brutal terror against innocent Israeli civilians. Please help us fight back!
The post Good News Israel! Running for Israel in Antartica; The World's 'Ugliest' Building Brings Tourists to Tel Aviv; and More! first appeared on United with Israel.
United with Israel