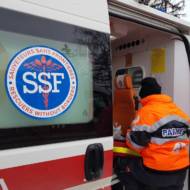 Good News Israel: Rescuing Arabs in Ukraine, Helping Druze with Hebrew, and Much More!

Israeli volunteers rescue Arabs from enemy countries in Ukraine, Education Ministry provideses Hebrew instruction to Druze community, Druze-Israeli connects Arabs and Jews, and much more!
By Michael Ordman
ISRAEL IS INCLUSIVE AND GLOBAL
Rescuing Arabs in Ukraine
At the start of the conflict, Israel tweeted a warning in Arabic to warn all Israelis to leave Ukraine. Israel was praised for rescuing hundreds of its Arab citizens, including many Israeli Bedouin Moslems. Israel also rescued a Gazan, an Iranian, a Syrian and several Moroccans.
https://drive.google.com/file/d/14x3oZyQbKuQSdy44BEC7wBe4-sbvFZlf/view
Helping Israeli Druze with Hebrew
Israel's Education Ministry is opening classes at 64 Israeli elementary schools to provide intensive Hebrew language instruction to Israel's Druze community. It will improve the opportunities for the Druze to advance academically in Israel and acquire better jobs.
https://www.israelhayom.com/2022/03/13/new-hebrew-language-program-aims-to-improve-opportunities-for-druze/
Druze woman connects Arabs and Jews
Janan Faraj Falah was the first Israeli Druze woman to receive a PhD and the first non-Jew to receive the Jerusalem Unity Prize for contributions to Israel. She founded the Akko Women Vision Association, to advance the status of women and connect Arabs and Jews
https://www.israel21c.org/the-druze-woman-helping-israelis-learn-to-live-together/
Breaking the sound barrier
The first Royal Air Maroc flight from Morocco to Israel landed in Tel Aviv last week. Its pilot Karim Taiser is also the founder of the Moroccan Symphonyat Orchestra and was in the Jewish state a week earlier for a unique performance in Timna with Jerusalem's East & West Orchestra.
https://www.i24news.tv/en/news/israel/culture/1647188615-israeli-conductor-moroccan-pilot-break-sound-barriers
https://www.jpost.com/israel-news/culture/article-693889
https://moroccolatestnews.com/music-partnership-between-jerusalem-east-west-orchestra-and-symphonyat/
UAE visit to National Library
The UAE's National Archives directors made their first visit to the National Library of Israel, where they were shown rare artifacts recording the life of Persian Gulf inhabitants in the early-20th century.
https://www.jpost.com/middle-east/article-700831
Academic co-operation with UAE
The University of Haifa signed a Memorandum of Understanding with the UAE's National Library and Archives. It focuses on the exchange of researchers, experts and collections; archival research; access to library resources; and joint events and conferences.
https://www.jns.org/uae-israel-sign-academic-cooperation-agreement-in-another-move-to-enrich-ties/
Protection against ISIS drones
Mozambique has reported that it used its MC-Horizon D360BP V3 tactical system, built by Israel's MCTECH RF (see here previously), to intercept and neutralize three ISIS drone squads in the north of the country. The systems were supplied to Mozambique at the end of 2021.
https://www.israeldefense.co.il/en/node/53816
Haredim aid Ukrainians
12 haredi members of Israel's ZAKA rescue organization have been working in Lviv, providing food to all who need it and evacuating Jews to Israel. At their Israel IT building, refugees can sleep, shower, and take their kids to playrooms.
https://www.timesofisrael.com/with-haredi-volunteers-an-israeli-entrepreneur-28-rescues-jewish-refugees-in-lviv/
El Al passengers bring aid for Ukrainians
El Al passengers flying from Tel Aviv to Bucharest acted as couriers, taking boxes containing items from medicine to baby food and diapers for delivery to Ukrainian refugees arriving in Romania. The flight also carried two doctors and two Russian-speaking nurses.
https://www.timesofisrael.com/passengers-on-el-al-flight-to-bucharest-carry-boxes-of-aid-for-influx-of-refugees/
IDF help for Ukrainian arrivals
(WIN) Russian- and Ukrainian-speaking IDF soldiers will assist new immigrants and refugees from Ukraine and Russia in the absorption process when arriving at Ben Gurion Airport. Some 8,000 refugees have arrived in Israel in the past two weeks, and thousands more are expected.
https://tps.co.il/articles/idf-deploying-troops-to-help-with-ukrainian-refugees/
Benefits for Ukrainian refugees
Israel will provide medical services to the thousands of Ukrainian refugees in Israel (and expected) but ineligible for immigration. They will also receive temporary housing, food assistance, social services, health insurance, enrollment in the education system, and more.
https://www.timesofisrael.com/israel-to-offer-healthcare-temporary-housing-to-ukrainian-refugees/
More scholarships for Ukrainian refugees
Following the initiatives of Tel Aviv University and the Hebrew University of Jerusalem (see here previously), now Haifa University has launched a fund for 100 Ukrainians to receive scholarships, accommodation, and access to counseling.
https://www.jns.org/university-of-haifa-launches-emergency-fund-to-support-100-scholars-from-ukraine/
CLICK HERE FOR THIS WEEK'S GOOD NEWS FROM ISRAEL ARCHIVE.
Do You Love Israel? Make a Donation to Show Your Support!
Donate to vital charities that protect Israelis and help inspire millions around the world to support Israel too!
Now more than ever, Israel needs your help to fight – and win – the battle of public opinion.
Anti-Israel bias and boycotts are out of control. Israel's enemies effectively use social media to incite brutal terror against innocent Israeli civilians. Please help us fight back!
The post Good News Israel: Rescuing Arabs in Ukraine, Helping Druze with Hebrew, and Much More! first appeared on United with Israel.
United with Israel