Good News Israel! Israel's SeeTrue Cuts Airport Delays; Safer Construction, Thanks to Israeli Startup; and More!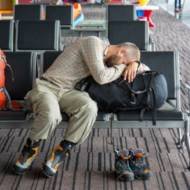 SeeTrue's hi-tech identifies banned items, cuts flight delays; Samson Logic makes construction safer and easier; PMO brings more power to Israel, and much more!
By Michael Ordman
SCIENCE & TECHNOLOGY
Cutting security delays at airports
Israel's SeeTrue provides a hi-tech AI solution that quickly identifies banned items in X-rays of baggage. SeeTrue was a winner in the UN World Tourism Organization Healing Solutions challenge, contested by over 1,100 companies.
https://www.israel21c.org/seetrue-cuts-airport-security-time-with-ai-software/
More power to Israel
Israel's Prime Minister's Office has formed the Fuel Cells Consortium. Its aim is to improve fuel cell durability and power and to cut its costs. The consortium includes Israeli fuel cell companies GenCell (see here) and PO-CellTech plus 12 researchers from all of Israel's universities.
https://www.timesofisrael.com/promise-of-hydrogen-fueled-future-lights-a-fire-under-israeli-innovators/
Safer, cheaper construction
Israel's Samson Logic has developed a hardware / software system for managing construction materials. It can help save lives, save crane and worker time, optimize storage area, and manage material waste. Samson Logic has been selected to join the Proptech Zone Startup Accelerator. Great video.
https://www.calcalistech.com/ctech/articles/0,7340,L-3856010,00.html  https://www.samson-logic.com/
https://proptechzone.com/accelerator/
New R&D center for breeding better seeds
Israel's Equinom (reported here previously) has opened a hi-tech R&D center in a huge renovated warehouse at Kibbutz Givat Brenner in Central Israel. The facility will boost Equinom's efforts to develop the next generation of its non-GMO Smarter Seeds for tackling global hunger.
https://www.prnewswire.com/il/news-releases/equinom-builds-new-rd-center-301146292.html
Fast delivery by hybrid UAV
Israel's Gadfin ("wings" in Aramaic) has developed a long-distance aircraft with folding wings to hover like a UAV but fly like a plane. Ideal for delivering emergency supplies to inaccessible locations up to 250km away.  Italy's Enei will use Gadfin to check electrical power lines.
https://www.israeldefense.co.il/en/node/45721
https://www.gadfin.com/
Locating landmines by detecting bacteria
Israel has developed some unique innovative methods for finding deadly unexploded landmines (see here). Now, Hebrew University of Jerusalem researchers have engineered a strain of E. coli bacteria that, a few hours after scattering over a minefield, will glow brightly if near TNT.
https://unitedwithisrael.org/israeli-scientists-use-mutant-bacteria-to-find-and-neutralize-landmines/
Charging up the road
Israel's ElectReon does not stop. Having begun building pilot vehicle charging roads in Sweden, Germany and Tel Aviv (see here), it is now partnering European infrastructure company, Eurovia (part of Vinci S.A.), to promote and build wireless electric road systems in Germany, France and Belgium.
https://www.timesofisrael.com/israeli-company-that-builds-recharging-roads-expands-in-europe/
https://www.calcalistech.com/ctech/articles/0,7340,L-3855070,00.html
New EV chassis is right on track
Israel's REE Automotive (reported here previously) has three prototypes of its modular and flexible electric vehicle platforms. Each is sized appropriate to the dimensions and applications of the final completed target vehicle. REE has partnered Mitsubishi, Masushi, NSK, AAM, KYB and Mahindra.
https://jewishbusinessnews.com/2020/10/07/israels-ree-automotive-hits-the-track-with-three-electric-fully-modular/
Boosting streaming for Cisco & BT
Israel's Qwilt (reported here nine years ago) is integrating its software to accelerate the pace and streaming of live and VOD video broadcasts into Cisco's computer systems. British Telecom (BT) is the first company that will integrate the new development in its infrastructure.
https://www.calcalistech.com/ctech/articles/0,7340,L-3856211,00.html
Helping the UN monitor disasters from space
United Nations' Office for Outer Space Affairs (UNOOSA) has signed an agreement with Israel's Ben Gurion University to create a Regional Support Office for the UN Platform for Space-Based Information for Disaster Management and Emergency Response (UN-SPIDER).'
https://unis.unvienna.org/unis/en/pressrels/2020/unisos538.html
Ecosystem security pioneer
Israeli cybersecurity startup Cyberpion says that it detects threats from all connected third-party online solutions, their connections, and so on. It "systematically identifies vulnerabilities and neutralizes previously undetectable threats within the vast, highly dynamic online ecosystem."
https://jewishbusinessnews.com/2020/10/13/cybersecurity-startup-cyberpion-raises-8-25-million/
https://www.cyberpion.com/ecosystem-security-platform/
Manage stress with personal nutrition
Israel's myAir.ai has developed a series of plant-based nutrition bars to reduce different type of stress. The herbal extract blends are personalized using an algorithm and profiling of an individual's cognitive response to stress, tracked via a smart watch.
Car from Israeli recycled material
A team of Dutch students has built a zero-waste car. The body of the "Luca" is made of bio-based thermoplastic from recycled trash, developed by Israeli startup UBQ Materials (reported here previously). The students' aim is to show that waste can be used for a multitude of applications.
https://www.timesofisrael.com/zero-waste-car-made-by-dutch-team-with-bio-based-tech-of-israeli-startup-ubq/
Color from yeast
A spinoff from Israel's Weizmann Institute, startup Phytolon has developed natural food coloring by fermenting yeast. The process involves extracting the gene that determines the color of a certain plant and using it to generate a strain of baker yeast, which is then fermented.
https://www.timesofisrael.com/in-living-color-israels-phytolon-uses-fermented-yeast-to-make-natural-food-dye/
CLICK HERE FOR THIS WEEK'S GOOD NEWS FROM ISRAEL ARCHIVE.
HELP ISRAELIS BATTLE CORONA!
Donate to the Corona Emergency Relief Fund. Coronavirus has taken a huge toll on the people of Israel. The poor, elderly and ill are most vulnerable.

Israeli soldiers, security officers and medical care providers operate under great danger and risk to life.

Over 1 million Israelis are out of work. Many cannot make ends meet. We provide financial aid, food, medical supplies and more. Funds are distributed where needed most. The time to act is now!
The post Good News Israel! Israel's SeeTrue Cuts Airport Delays; Safer Construction, Thanks to Israeli Startup; and More! first appeared on United with Israel.

United with Israel