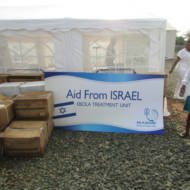 Good News Israel! Israel Gets Corona Aid to Liberia, Most Creative Israeli Woman in Business; and Much More!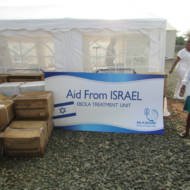 MASHAV gets humanitarian aid to Liberia, cancer researcher Eliran Malki named one of the top 25 innovators of 2020 by Modern Healthcare magazine, Israeli NGO helps at-risk youth, and much more!
By Michael Ordman
ISRAEL IS INCLUSIVE AND GLOBAL
Covid-19 aid to Liberia
Israel's MASHAV (Agency for International Development) presented various humanitarian aid and Personal Protective Equipment (PPE) to the Liberian Health Services. It also supplied food items and startup kits to young single mothers and families in Liberia, affected by COVID 19.
https://allafrica.com/stories/202008280612.html
Top innovator
Eliran Malki, co-founder and CEO of Israel's Belong.Life (the world's largest social cancer network), has been named one of the top 25 innovators of 2020 by Modern Healthcare magazine. It recognizes his company's use of AI and machine learning to create uniquely personalized patient experiences.
https://www.jpost.com/health-science/ceo-of-israeli-startup-named-in-healthcare-magazines-top-25-innovators-639837
https://www.modernhealthcare.com/awards/2020-top-25-innovators-eliran-malki
Computers for at-risk youth
The Israeli Public Forum for Youth Villages and Boarding Schools is tackling the problem of many Israeli children lacking computers to help them study. The NGO raises funds and has supplied 1,400 computers to some of the 25,000+ disadvantaged children it supports. But more are needed.
https://www.israelnationalnews.com/News/News.aspx/286477
https://www.fkn.org.il/about_us
Most creative woman
Inna Braverman, founder and CEO of Israeli clean-energy company Eco Wave Power was named in the 11th annual Fast Company list of the 74 Most Creative People in Business. Most recently, she was awarded the United Nations Global Climate Action Award (reported here previously).
https://www.israel21c.org/israeli-woman-on-fast-company-most-creative-people-list/
Influential Israelis
Fortune magazine named 4 Israelis in its 2020 "40 under 40" list of 200 most influential young people in business. They are Nir Bar Dea of Bridgewater Associates, Yoni Assia CEO of eToro, Yonatan Adiri CEO of Healthy.io and Adam Mosseri CEO of Instagram, who holds dual US & Israeli citizenship.
https://www.timesofisrael.com/4-israelis-in-fortunes-40-under-40-list-of-influential-businesspeople/
Oxygen for Indian hospitals
The Israeli Consulate in Bengaluru, Karnataka state, South India, has donated 25 industrial oxygen concentrators, or purifiers, to help contain the spread of Covid-19 in Karnataka hospitals.
https://www.jpost.com/diaspora/israeli-consulate-in-india-gifts-oxygen-concentrators-to-local-govt-hospitals-639062
Fighting California wildfires again
Israel helped California fight wildfires in 2018 (see here) and is back again with a team of experts to help combat the latest incidents. California Governor Gavin Newsom and US National Security Adviser Robert O'Brien thanked the Israelis for their response.
https://www.jns.org/israeli-fire-and-rescue-experts-fly-to-aid-california/
https://www.algemeiner.com/2020/09/01/california-governor-praises-beautiful-example-set-by-israeli-firefighters-who-came-to-help-in-ongoing-wildfire-battle/
From Israel to the UAE
Flight LY971, carrying the US-Israeli delegation to Abu Dhabi International Airport, was the first EL Al plane to fly through Saudi airspace and the first direct flight from Israel to the Gulf. A popular UAE newspaper headlined "Salam, Shalom".
https://www.israelnationalnews.com/News/News.aspx/286302
https://www.ynetnews.com/article/SYVKYV6DW
https://www.israelnationalnews.com/News/News.aspx/286331
CLICK HERE FOR THIS WEEK'S GOOD NEWS FROM ISRAEL ARCHIVE.
HELP ISRAELIS BATTLE CORONA!
Donate to the Corona Emergency Relief Fund. Coronavirus has taken a huge toll on the people of Israel. The poor, elderly and ill are most vulnerable.

Israeli soldiers, security officers and medical care providers operate under great danger and risk to life.

Over 1 million Israelis are out of work. Many cannot make ends meet. We provide financial aid, food, medical supplies and more. Funds are distributed where needed most. The time to act is now!

United with Israel