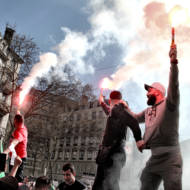 Get Out: France Deports Algerian Who Refused to Deliver to Jews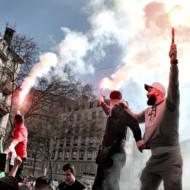 A delivery man who sneaked into France illegally is now being deported for "openly anti-Semitic discrimination."
By JNS
A French court on Thursday convicted a delivery driver of discrimination against Jews after refusing to accept orders for kosher food.
Dhia Edine D., a 19-year-old Algerian man illegally in France, was sentenced by a Strasbourg court to four-and-a-half months in prison.
French Interior Minister Gerald Darmanin said that the man will be deported back to Algeria after he completes his sentence.
"I decided to expel from the national territory the food 'deliverer' … who said he did not want to handle deliveries to Jewish clients," said Darmanin.
The conviction occurred two days after a regional Jewish institution, the Israelite Consistory of the Bas-Rhin region, filed a legal complaint that alleged that two kosher restaurants had claimed that drivers working for the online food-delivery service Deliveroo refused to make deliveries on their behalf because they didn't want to service Jews.
The group and restaurants labeled the refusal "openly anti-Semitic discrimination." Ultimately, only one delivery person was implicated.
The Strasbourg prosecutor's office had conducted a probe into "discrimination based on ethnic origin in the framework of providing a service," a prosecutor's aide told The Associated Press.
Deliveroo spokesperson Damien Steffan said on Tuesday that the company believes "anti-Semitic acts, like all racist or discriminatory acts of all kinds, are unacceptable."
HELP ISRAELIS BATTLE CORONA!
Donate to the Corona Emergency Relief Fund. Coronavirus has taken a huge toll on the people of Israel. The poor, elderly and ill are most vulnerable.

Israeli soldiers, security officers and medical care providers operate under great danger and risk to life.

Over 1 million Israelis are out of work. Many cannot make ends meet. We provide financial aid, food, medical supplies and more. Funds are distributed where needed most. The time to act is now!
The post Get Out: France Deports Algerian Who Refused to Deliver to Jews first appeared on United with Israel.

United with Israel