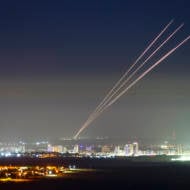 Gaza Terrorists Fire Rocket at Israel, First Since May Conflict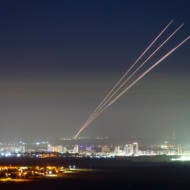 Islamic Jihad took responsibility for the attack, stating that it was a response to Israel's "crimes in Jenin."
By Aryeh Savir, TPS
Gaza-based terrorists launched a rocket at southern Israel on Monday in mid-day, setting off alarms at several locations surrounding the Strip.
An Iron Dome defense system intercepted the rocket above the city of Sderot. No injuries or damage were reported.
The Islamic Jihad took responsibility for the attack, stating that it was a response to Israel's "crimes in Jenin," an incident on Sunday night in which IDF forces arrested a terrorist and killed another four in a gun battle in the city.
This rocket attack is the first since the end of Operation Guardian of the Walls in May. Terrorists have launched arson attacks at Israel's south.
Israel has yet to respond, but its leaders have recently warned Hamas against renewing its attacks on Israel.
This attack occurred as the factions in the Gaza Strip are set to meet on Monday night to decide on their response following what they allege to be "Israel's evasion of the agreements that led to the end of Operation Guardian of the Walls."
The factions in Gaza set an ultimatum to Israel demanding that Israel open the crossings into Gaza and transfer funds from Qatar by Monday night, saying that otherwise they will start another war of attrition.
PLANT FRUIT TREES IN ISRAEL BEFORE SABBATICAL BEGINS!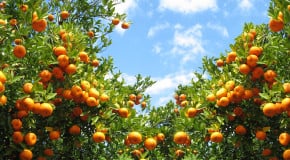 HELP ISRAELI FARMERS PLANT NOW – BEFORE SHMITA!

TIME RUNNING OUT to make the Land even more fruitful while helping Israeli farmers offset financial losses from Covid, Hamas arson fires and the upcoming Sabbatical year.

"…the seventh year shall be a complete rest for the Land…"

"…I will ordain My blessing for you…"
(Leviticus 25:4,21)
CLICK TO PLANT YOUR FRUIT TREES IN ISRAEL TODAY, BEFORE IT'S TOO LATE!
The post Gaza Terrorists Fire Rocket at Israel, First Since May Conflict first appeared on United with Israel.
United with Israel