Gaza Terror Groups Unveil Subterranean 'Tunnel City'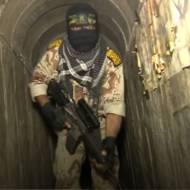 Palestinian terror groups have spent an estimated $1.25 billion on Gaza's tunnels.
By Pesach Benson, United With Israel
Palestinian Islamic Jihad unveiled what it called a "tunnel city" below Gaza, giving a tour to Agence France-Presse reporter Adel Zaanoun and photographer Mahmud Hams.
Islamic Jihad told AFP they have tunnels with "both offensive and defensive capabilities."
An offensive tunnel is one that crosses the border with Israel and "is used for taking Israeli soldiers captive, repelling Israeli ground offensives and carrying out various field operations," a PIJ commander said.
AFP reported that the tunnels it saw in southern Gaza near Khan Yunis were complete with electric lights, ventilation, telecom cables and areas for weapons storage.
It wasn't clear from the AFP report why PIJ was now opening its tunnel to Zaanoun and Hams or what conditions were imposed on their reporting.
Gaza's tunnel network initially began in 2007 after Hamas seized control of the Strip. Israel and Egypt imposed a blockade to prevent weapons smuggling; Hamas responded by digging tunnels into the Egyptian Sinai.
In 2006, Hamas kidnapped IDF soldier Gilad Shalit through a tunnel near the Kerem Shalom border crossing.
Other tunnels below Gaza were dug to facilitate the movement of terrorists during an IDF invasion, and for hiding high-level Hamas leaders and Israeli hostages. Shalit was reportedly held in a tunnel below Gaza's Shifa Hospital.
Tunnels commonly run below homes, schools, hospitals, mosques and UNRWA facilities, putting civilians at risk.
Israeli officials estimate that Hamas has spent more than $1.25 billion on its tunnel network since 2007, the Washington Post reported in 2021. Israelis argue that this money could have been spent on Palestinian schools, clinics and infrastructure.
In 2021, Israel completed the construction of an underground barrier along the entire length of the 40 mile Gaza border. The $1.1 billion underground barrier includes sensors that detect digging.
The IDF's tunnel-detecting technology was also used to neutralize Hezbollah's cross-border tunnels in 2018.
Send Passover Packages to Needy Israeli Soldiers – Bring Them Joy!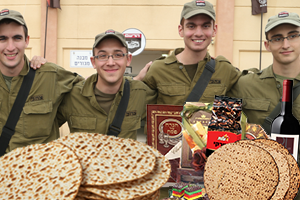 We are honored to thank the young men and women of the IDF who risk their lives every day to protect the freedom of the citizens of Israel.
Join us in sending Passover food packages (and personal notes) to Israeli soldiers and their families

Many soldiers spend the Passover holiday with needy families back home. The soldiers greatly appreciate your love and concern. Bring them Passover joy!
CLICK HERE TO SEND YOUR PACKAGE AND NOTE TO ISRAELI SOLDIERS!
The post Gaza Terror Groups Unveil Subterranean 'Tunnel City' first appeared on United with Israel.
United with Israel