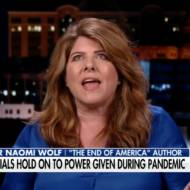 Fox News Airs Anti-Semitic Trope About Israel Controlling Dr. Fauci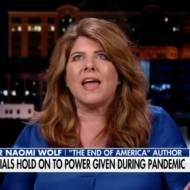 A Fox host failed to question known anti-Semitic personality Naomi Wolf when she suggested Israel controls Dr. Anthony Fauci.
By Yakir Benzion, United With Israel
An Israeli media watchdog group is calling out Fox News after a host on one of its shows failed to stop or even question an anti-Semitic rant during a broadcast.
Dr. Naomi Wolf, an ex-consultant for the Democratic party who once advised former president Bill Clinton and former vice president Al Gore, told Fox News on Tuesday that Dr. Anthony Fauci "does not work for us."
"He is so conflicted," said Wolf, who is Jewish, on Fox News Primetime, "that I don't think you can say that he is a bureaucrat whose job is to serve public health for the American people."
"He has patents…he got $1 million from the State of Israel for a humanitarian gift. He's the highest paid bureaucrat in Washington. Why is that?" said Wolf, an author and known conspiracy theorist with a long track record of anti-Semitic and anti-Israel comments.
Honest Reporting noted that Wolf's "classical anti-Semitic trope" that Jews control U.S. domestic and foreign policy went unchallenged by Fox News anchor Ben Domenech, who instead ended the segment by saying that Wolf's criticisms of COVID-19-related restrictions would be "vindicated."
"Wolf may have been booked to appear on the program because of her strong opinions about the U.S. government's response to the pandemic, but her history of inflammatory remarks about Israel, which in this case crossed the line into anti-Semitism, should have given Fox News cause to reconsider allowing Wolf to potentially influence the network's massive audience," Honest Reporting said.
Aside from her record of anti-Semitism, Wolf was factually wrong in talking about Fauci, the respected immunologist who has served presidents – both Republican and Democrat – for decades.
The fact is that Fauci never received any monetary gift from the Israeli government. He was, however, awarded the Dan David Prize from an organization affiliated with the Tel Aviv University, which cited Fauci's lifetime achievements in public health and praised his dedication to combating the coronavirus.
"People living in an open, democratic society are entitled, even encouraged, to question and critique the decision-making of their key public officials," Honest Reporting noted. "However, doubting Dr. Anthony Fauci's loyalty to the United States crossed a red line. And allowing anti-Semitic tropes to be spewed live on air without being questioned, is nothing less than an act of journalistic malfeasance."
JOIN ISRAEL'S MASSIVE SPRING PLANTING OF FRUIT TREES!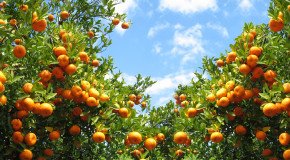 SPRING IS THE BEST TIME TO PLANT YOUR FRUIT TREES!

Make the Land of Israel even more beautiful and fruitful while helping Israeli farmers to recover from financial losses due to COVID-19 and devastating Hamas arson fires.

"…for the Lord your God is bringing you into a good land… a land of wheat and barley, vines, figs and pomegranates, a land of olive oil and honey"
(Deuteronomy 8:7-8)

The post Fox News Airs Anti-Semitic Trope About Israel Controlling Dr. Fauci first appeared on United with Israel.
United with Israel