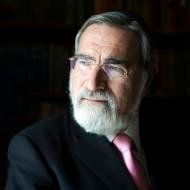 Former UK Chief Rabbi Lord Jonathan Sacks Mourned as 'Intellectual Giant,' 'Ambassador for Judaism'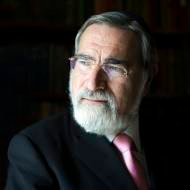 Rabbi Lord Jonathan Sacks, who passed away on the Sabbath, was hailed as a major force for good by heads of state and fellow spiritual leaders of various faiths.
By Ebin Sandler, United with Israel
On Saturday morning, Rabbi Lord Jonathan Sacks passed away, succumbing to cancer after beating the disease during two previous bouts.
The 72-year-old spiritual leader served as the Chief Rabbi of Great Britain for 22 years, between 1991 and 2013, and remained one of the foremost figures representing the Jewish world on the international stage.
Israeli President Reuven Rivlin praised Rabbi Sacks as "an original teacher" and a "man of truth, whose generosity and compassion built bridges between people."
"Rabbi Sacks bravely faced difficult questions and always found the right words to illuminate the Torah and explain its paths," continued Rivlin. "We will always remember his warnings against violence in the name of God and his belief that we have the power to heal a fractured world."
The London-born rabbi was raised in the city's East End and began informal outreach to Jewish youth in his teens, organizing morning assemblies for students at the secular school he attended.
While earning a degree in philosophy and moral science at the University of Cambridge, Rabbi Sacks visited the U.S. and met with two of the most influential rabbis of the time – the Lubavitcher Rebbe, Rabbi Menachem Mendel Schneerson; and Rabbi Joseph Soloveitchik of Yeshiva University, known as the father of Modern Orthodoxy.
Religious Leader and Public Intellectual
The Lubavitcher Rebbe urged Rabbi Sacks, then a university student, to seek ordination.
"The [Lubavitcher] Rebbe challenged me to lead. Rabbi Soloveitchik challenged me to think," commented Rabbi Sacks, reflecting on his life-changing encounters with these scions of the Jewish faith.
Rabbi Sacks followed this advice, earning ordination and a Ph.D. in philosophy and continuing to teach at the collegiate level while serving as a leader of Orthodox synagogues in London.
After being named Chief Rabbi of the United Kingdom in 1991, Rabbi Sacks declared a "Decade of Renewal," which was "aimed at revitalizing 'British Jewry's great powers of creativity.'"
Rabbi Sacks succeeded not only in revitalizing the British Jewish community, he emerged as a leading voice inspiring Jews in all corners of the world to engage with their tradition.
He also made major strides in interfaith bridge-building and was named President of the Council of Christians and Jews.
Rabbi Sacks was a prolific author, penning over 30 books, including his most recent work, Morality: Restoring the Common Good in Divided Times (2020), which was a Sunday Times top 10 bestseller. He also wrote The Dignity of Difference: How to Avoid the Clash of Civilizations, which won the Grawemeyer Prize for Religion in 2004 "for its success in defining a framework for interfaith dialogue between people of all faith and of none."
Rabbi Sacks' books were not limited to tomes for popular consumption, as he also published a new English translation and commentary for the Jewish prayer book (Koren Sacks Siddur) in addition to commentaries for the Jewish holidays (Rosh HaShanah, Yom Kippur, Pesach, Shavuot and Sukkot). His Covenant & Conversation commentaries provide insight into the weekly Torah portion and remain a fixture in Jewish homes.
In 2005, Rabbi Sacks was knighted and became a Life Peer in 2009.
Current UK Chief Rabbi Ephraim Mirvis said that the world "lost a Torah luminary and intellectual giant who had a transformative global impact." He also referred to Rabbi Sacks as "an extraordinary ambassador for Judaism, helping many to understand and be proud of their heritage."
A Generous, Down-to-Earth Leader
While Rabbi Sacks earned a reputation as a dynamic public intellectual, respected academic, and passionate spiritual leader, those who interacted with him in informal settings remember his warmth and generosity.
"I didn't know him well but he was kind enough to host my wife and me for a Shabbat meal one time in his official residence," recalls an English businessman who immigrated to Israel and preferred to remain anonymous.
"My late father was undergoing a 10-hour operation on Shabbat in a hospital that was a two-hour walk from our house," the guest of Rabbi Sacks told United with Israel. "Rabbi Sacks was the only observant person we knew in the area near the hospital and he kindly hosted us for lunch, so we only had to walk once on Shabbat and could visit the hospital in the morning and afternoon.
"I found Rabbi Sacks to be charming and down to earth, despite being incredibly intellectual," he added.
A Bulwark Against the Rising Tide of Anti-Semitism
After Rabbi Sacks' passing, Israeli Prime Minister Benjamin Netanyahu hailed him as "a spiritual leader and thinker who had many students."
The prime minister added, "His insights about the heritage of the Jewish people and anti-Semitism will stand in our generation and for generations to come."
To that end, Rabbi Sacks recently took a strong stand when anti-Semitism spread in the UK's Labour Party on Jeremy Corbyn's watch.
"Under his leadership, and the semi-respectable sheen of anti-Zionism — let's have a Rainbow Nation with Hamas! — the poison spreads," wrote Rabbi Sacks in The Spectator in 2019. "The libel that the Jews are the enemy of everything holy (formerly Christ, now socialism) has returned."
In a 2018 interview with The New Statesman, Rabbi Sacks warned that Corbyn gives "support to racists, terrorists and dealers of hate, who want to kill Jews and remove Israel from the map," adding that the Labour leader uses "the language of classic pre-war European anti-Semitism."
A 2020 investigation by the UK's Equality and Human Rights Commission "found that the Labour Party committed unlawful acts" with regard to anti-Semitic activity among its ranks. Corbyn was disciplined due to his rejection of the report's findings.
HELP ISRAELIS BATTLE CORONA!
Donate to the Corona Emergency Relief Fund. Coronavirus has taken a huge toll on the people of Israel. The poor, elderly and ill are most vulnerable.

Israeli soldiers, security officers and medical care providers operate under great danger and risk to life.

Over 1 million Israelis are out of work. Many cannot make ends meet. We provide financial aid, food, medical supplies and more. Funds are distributed where needed most. The time to act is now!
The post Former UK Chief Rabbi Lord Jonathan Sacks Mourned as 'Intellectual Giant,' 'Ambassador for Judaism' first appeared on United with Israel.

United with Israel