Former Hamas Hostage Gilad Shalit Ties the Knot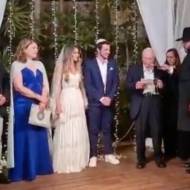 Gilad Shalit and Nitzan Shabbat marry in low-key affair.
By United With Israel Staff
A decade after being freed in a controversial prisoner swap, former Hamas captive Gilad Shalit married his long-time girlfriend Nitzan Shabbat on Wednesday.
Shalit, now 34, and his bride were escorted to the chuppah by their parents
The couple prefer avoiding public attention. Shalit is said to work in the security department of Discount Bank while Nitzan is a social worker and artist. Only family members and close friends were invited to the nuptials, held in Emek Hefer in central Israel. Kan News reported that guests were required to sign non-disclosure agreements.
One of the guests, former Entebbe hostage Shai Gross, told Yediot Aharonot, "I first met Gilad about a week after he returned, I worked for four years to see him released."
"A special bond was formed between us. To see him here today, after all he has been through… He is more than a brother," Gross said.
Shalit was abducted by Hamas in 2006 in a raid on an IDF outpost near the Kerem Shalom border crossing. The terrorists reached the outpost via a cross-border tunnel. Two soldiers were killed in the attack.
During his five-year captivity, Hamas denied Red Cross access to Shalit.
He was freed in a prisoner exchange for 1,027 Palestinian and Arab-Israeli terrorists and security prisoners. Among the notable prisoners released was Hamas's current Gaza strongman, Yahya Sinwar.
Shalit was discharged from the IDF in 2012 with the rank of sergeant-major.
JOIN ISRAEL'S MASSIVE SPRING PLANTING OF FRUIT TREES!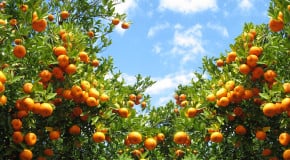 SPRING IS THE BEST TIME TO PLANT YOUR FRUIT TREES!

Make the Land of Israel even more beautiful and fruitful while helping Israeli farmers to recover from financial losses due to COVID-19 and devastating Hamas arson fires.

"…for the Lord your God is bringing you into a good land… a land of wheat and barley, vines, figs and pomegranates, a land of olive oil and honey"
(Deuteronomy 8:7-8)

The post Former Hamas Hostage Gilad Shalit Ties the Knot first appeared on United with Israel.
United with Israel