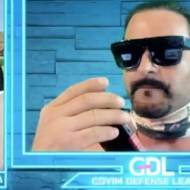 Florida Neo-Nazi Spreading Jew-bashing Flyers Charged for 'Littering'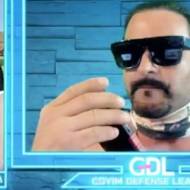 Neo-Nazi leader behind antisemitic COVID flyers apprehended by Florida cops for littering offense.
The neo-Nazi agitator behind the white supremacist group that has distributed flyers around the country blaming Jews for the COVID-19 pandemic and other ills has been cited by police in Florida for a litter violation.
Jon Minadeo II — the founder of the self-styled "Goyim Defense League" (GDL) which agitates against Jews while hiding behind the First Amendment — was stopped by police in Palm Beach on Saturday. Minadeo and three of his acolytes were apprehended tossing weighted baggies containing propaganda sheets targeting Jews, the Press Democrat reported.
Each man was fined $163 for littering from a vehicle. As s a non-criminal infraction, the offense is not recorded as a misdemeanor. Further similar offenses carry the same fine. As a result, the impact of the decision is "limited," the Press Democrat said.
"We're continuing to confer with local law enforcement partners on the matter. And we'll be investigating any further incidents," Palm Beach Police Capt. Will Rothrock told the paper.
Minadeo moved from his original base in northern California to Florida last December. Reporting on Saturday's incident, the Palm Beach Post described him as a "well-known antisemitic agitator from Sonoma County, Calif., who boasted on social media last year that he had been handcuffed and arrested for 'hate speech' outside the Auschwitz concentration camp in Poland."
One California rabbi who was targeted by Minadeo's group told the Press Democrat that he was not sure whether Minadeo's move to Florida was a positive development.
"On one hand, yeah, it's nice he moved out of town. On the other hand, there are clearly issues with him moving to a place where there are more Jews, and more elderly Jews," said Rabbi Mordecai Miller of Congregation Beth Ami in Santa Rosa."Why would he do this? Possibly to be more effective, I don't know."
The GDL has distributed its antisemitic leaflets to homes in California, Texas, North Carolina, Idaho, Vermont, Alabama, Illinois, Florida and other states. According to the Anti-Defamation League (ADL), the GDL "spreads hateful propaganda and harasses the Jewish community just so they can get attention online."
Send 'Warm Winter' Care Packages to Israeli Soldiers – They are Cold!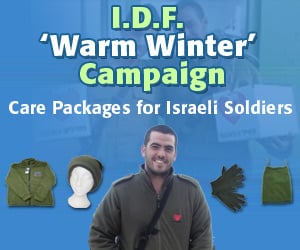 We are honored to thank the young men and women of the IDF who risk their lives every day to defend the citizens of Israel.
Join us in sending winter care packages and personal notes of support to Israeli soldiers who are out in the cold all day.
Warm up a soldier's heart with essential winter wear including fleece jackets. Keep an entire unit warm by ordering 10 packages… The soldiers truly appreciate your love and concern!
The post Florida Neo-Nazi Spreading Jew-bashing Flyers Charged for 'Littering' first appeared on United with Israel.
United with Israel