Florida Evangelical Identified as QAnon's Biggest Anti-Semitic Personality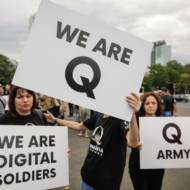 Robert Smart accused of peddling Holocaust denial and conspiracy theories to 300,000 followers under GhostEzra pseudonym.
By Pesach Benson, United With Israel
One of QAnon's most popular and anti-Semitic influencers was identified as a Florida evangelical.
"Ghost Ezra," who has 300,000 followers on Telegram, was identified as Robert Smart of Boca Raton, FL. He was outed by Logically, a British-based organization that tracks online misinformation. It called his Telegram account.
QAnon claims to follow a high-level government official referred to as Q who is said to have access to classified information about Donald Trump's administration and its opponents. Its followers figured prominently in the January storming of Capitol Hill.
As GhostEzra, Smart posted on Telegram claims that Jews control international banking, the media and major pharmaceutical companies. He also linked to a 12-hour film claiming that Jews created Communism to take over the world.
Smart linked to so much Holocaust denial, Nazi propaganda and conspiracy theories that "the comments under the account's Telegram posts now effectively function as a neo-Nazi discussion forum," Logically said.
Other topics Smart discussed or linked to included COVID-19 denialism, claims that Joe Biden is dead and has been replaced by an actor, and conspiracy theories about the 2020 presidential election.
"GhostEzra is the most extreme, and arguably the most influential such figure that the investigative team has uncovered to date," Logically said.
The organization said it identified Smart through customer reviews he had left on Google and Yelp under a name and avatar previously seen in one of GhostEzra's Telegram posts. Logically also matched up identifying features in photos Smart posted as GhostEzra and on separate social media accounts.
Smart's online fingerprints were even on a review of Boca Raton's Jewish Center. He gave it one star and commented, "Not nice."
The Telegram account was set up in January, two days after Twitter shut down an account of the same name.
Media reports described Smart as 39 and married with one child. He didn't respond to requests for comment.
QAnon's primary conspiracy theory alleges that a cabal of Satanic, cannibalistic pedophiles operating an international child sex trafficking ring conspired against the presidency of Donald Trump.
Do You Love Israel? Make a Donation to Show Your Support!
Donate to vital charities that protect Israelis and help inspire millions around the world to support Israel too!
Now more than ever, Israel needs your help to fight – and win – the battle of public opinion.
Anti-Israel bias and boycotts are out of control. Israel's enemies effectively use social media to incite brutal terror against innocent Israeli civilians. Please help us fight back!
The post Florida Evangelical Identified as QAnon's Biggest Anti-Semitic Personality first appeared on United with Israel.
United with Israel