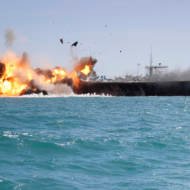 Experts: Iran to Focus Terror on Bahrain, Try and Kill Peace Deal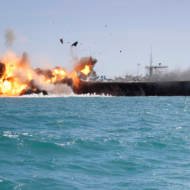 Iranians are expected to hit Bahrain with terror attacks in order to undo the peace agreement it signed with Israel.
By Yakir Benzion, United With Israel
The recently signed historic peace treaties between Israel and two Gulf Arab nations have angered Iran to the point that it is expected to push terror attacks against Bahrain in a bid to get that country to back away from diplomatic relations with the Jewish state, a major terrorism investigation think tank says.
"Our estimate is that the deal could increase the motivation of Iran and of terror organizations in Bahrain, which it sponsors, to try to increase the public threat level, including to attack Bahrain's rulers and to thwart implementation of the deal," the Meir Amit Intelligence and Terrorism Information Center said in a report published in the Jerusalem Post on Friday.
The tiny island nation of Bahrain is controlled by a Sunni minority that has dealt for years with unrest from the country's Shi'ite majority which gets encouragement and support from Iran. Shi'ites make up an estmated 62% of Bahrain's small native population of 1.6 million.
After Bahrain made peace with Israel, Iran threatened Bahrain's ruler, King Hamad bin Isa bin Salman al-Khalifa, calling him the "Bahraini killer" and saying Bahrain's rulers "will be targets of painful revenge on the part of the people of Bahrain."
Bahrain is a close ally of America, and the U.S. Navy's Fifth Fleet is based there – a major source of irritation to the ayatollahs in Tehran who try to provoke the island nation's Shi'ites to overthrow the ruling family.
Last month Bahrain announced it had broken up a major terrorist cell. The Meir Amit Center report said threats from Iran-affiliated terrorist groups may already be moving into action.
Bahrain and the United Arab Emirates signed the Abraham Accords on September 15 at the White House. Bahraini officials said the terrorist cell had planned to attack government officials, security installations and economic centers both to thwart the peace deal and to avenge the January assassination by the U.S. of Iranian general Qasem Soleimani, whom President Trump called one of the region's worst terrorists.
Even though its population is relatively small, there have been public protests against the Bahrain-Israel peace deal, unlike in the UAE, where the public appears to be supporting the normalization of ties.
HELP ISRAELIS BATTLE CORONA!
Donate to the Corona Emergency Relief Fund. Coronavirus has taken a huge toll on the people of Israel. The poor, elderly and ill are most vulnerable.

Israeli soldiers, security officers and medical care providers operate under great danger and risk to life.

Over 1 million Israelis are out of work. Many cannot make ends meet. We provide financial aid, food, medical supplies and more. Funds are distributed where needed most. The time to act is now!

United with Israel