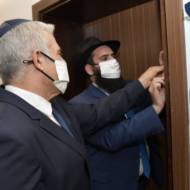 Emirati Crown Prince Pulls Out All the Stops for Kosher Food for Lapid Delegation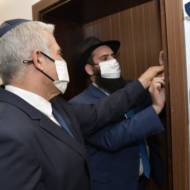 A convoy of jeeps even escorted the food-delivery truck to the Israeli delegation's hotel.
By United With Israel Staff
The royal family of the United Arab Emirates went to unusual lengths to ensure Foreign Minister Yair Lapid and his delegation had high-quality kosher food during this week's historic visit, Times of Israel reported.
The UAE's Armed Forces Officers Club was tasked by Crown Prince Mohamed bin Zayed to prepare fresh kosher food for Lapid's two-day visit, the report said. On the Crown Prince's instructions, the Officer's Club reached out to Rabbi Levi Duchman, leader of the Emirates' Jewish community.
Rabbi Duchman dispatched a mashgiach, or kosher supervisor, to the Officer's Club, while his brother, Mendel Duchman, was sent to ritually slaughter chickens. The majority of the food was locally sourced. And it helped that one of the Officer's Club's kitchens had been certified kosher by Rabbi Duchman after the Abraham Accords were signed in 2020.
"This was 100 percent UAE who wanted to make sure that if there's people that keep kosher on the trip, they should have the best standard of kosher food," Duchman told Times of Israel.
How serious were the Emiratis? The truck delivering the food from the Officer's Club to the Israelis' hotel was escorted by a convoy of jeeps sent directly from the Crown Prince's office, according to the Times report. For two days, the visiting Israelis dined on fine salads, chicken, meat, fish and desserts.
After the signing of the Abraham accords, UAE tourism officials instructed hotels to begin providing kosher food options for Jewish guests and to obtain certification. Around 200,000 Israeli tourists have already visited the Gulf state. Rabbi Duchman told the Times that some hotels are setting up kosher kitchens while others are opting for third-party caterers.
There are already "more than a dozen Emirati hotels with kosher kitchens," the report said.
JOIN ISRAEL'S MASSIVE SPRING PLANTING OF FRUIT TREES!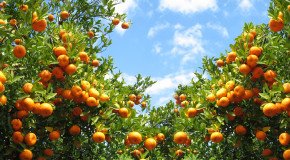 SPRING IS THE BEST TIME TO PLANT YOUR FRUIT TREES!

Make the Land of Israel even more beautiful and fruitful while helping Israeli farmers to recover from financial losses due to COVID-19 and devastating Hamas arson fires.

"…for the Lord your God is bringing you into a good land… a land of wheat and barley, vines, figs and pomegranates, a land of olive oil and honey"
(Deuteronomy 8:7-8)

The post Emirati Crown Prince Pulls Out All the Stops for Kosher Food for Lapid Delegation first appeared on United with Israel.
United with Israel