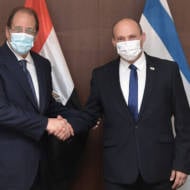 Egyptian President Invites Bennett to Cairo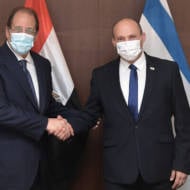 On behalf of President Abdel Fattah al-Sisi, Egyptian Intelligence Minister Kamal invited Bennett to pay an official visit to Egypt in the coming weeks, the Prime Minister's Office announced.
By United with Israel Staff
Egyptian Intelligence Minister Abbas Kamal met with Prime Minister Naftali Bennett in Jerusalem Wednesday to discuss the ceasefire agreement between Israel and the Hamas terrorist organization following the 11-day war in May.
On behalf of Egyptian President Abdel Fattah al-Sisi, Kamal invited Bennett to pay an official visit to Egypt in the coming weeks, the Prime Minister's Office announced.
Bennett's office gave few details about Wednesday's talks, saying they focused on mutual security and economic issues as well as "the matter of Egyptian mediation in the security situation vis-a-vis the Gaza Strip."
Later Wednesday, Kamel visited Palestinian President Mahmoud Abbas in Ramallah.
Abbas' office said that he and Kamel "reviewed the latest developments in the Palestinian territories, and ways to strengthen bilateral relations and achieve stability and peace in the region," AP reported.
According to Channel 13, Muhammad al-Barim, spokesperson for the Communications Bureau of the Popular Resistance Committees — a coalition of armed Palestinian groups opposed to what they regard as the conciliatory approach of the Palestinian Authority and Fatah towards Israel — told Palestinian media that the factions held a meeting on Wednesday as well and that they are planning a mass demonstration in the near future,, Channel 13 reported.
In 2011, former Prime Minister Benjamin Netanyahu met with then-President Hosni Mubarak in the city of Sharm el-Sheikh in the Sinai, which Israel captured in the 1967 Six-Day War but returned to Egypt in 1982 in accordance with the peace treaty concluded between the two countries in 1979.
In September 2017, Netanyahu met with al-Sisi in New York on the sidelines of the United Nations General Assembly, the first official meeting between the two leaders.
In May 2018, according to Israel's Channel 10 at the time, Netanyahu met with the Egyptian leader in a secret meeting.
PLANT FRUIT TREES IN ISRAEL BEFORE SABBATICAL BEGINS!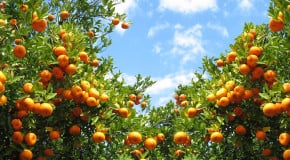 HELP ISRAELI FARMERS PLANT NOW – BEFORE SHMITA!

TIME RUNNING OUT to make the Land even more fruitful while helping Israeli farmers offset financial losses from Covid, Hamas arson fires and the upcoming Sabbatical year.

"…the seventh year shall be a complete rest for the Land…"

"…I will ordain My blessing for you…"
(Leviticus 25:4,21)
CLICK TO PLANT YOUR FRUIT TREES IN ISRAEL TODAY, BEFORE IT'S TOO LATE!
The post Egyptian President Invites Bennett to Cairo first appeared on United with Israel.
United with Israel