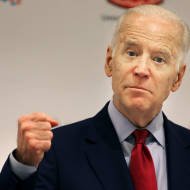 Democrats Remove 'Occupation' Language from Platform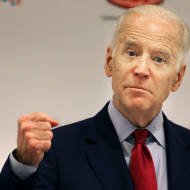 While Democrats reject linking U.S. aid to any Israeli moves on sovereignty in Judea and Samaria, their platform opposes Israeli sovereignty there and adds new support for "Palestinian rights."
By Yakir Benzion, United With Israel
The Democratic Party this week rejected a proposal to include language in the 2020 election platform that would be more critical of Israel.
The committee drafting the platform voted 117-34 to reject an amendment that would have added the term "Israeli occupation" and a demand that future American aid to Israel would be negatively affected by an Israeli decision to apply sovereignty to Israeli settlement areas in Judea and Samaria, Times of Israel reported.
The amendment also would have included criticism of any settlement activity, not just settlement "expansion" as it appears in the current Democratic platform. Other groups like J Street had pushed the committee to include the word "occupation" while they praised the draft for opposing annexation and declaring support for "Palestinian rights."
Wendy Sherman and Dan Shapiro, two former senior Obama administration officials, argued against the amendment. Sherman, a former deputy Secretary of State, said,: "Our assistance to Israel is a mutually beneficial investment — one that protects Israel from very real threats and helps promote security and stability in a region where we know all too well the costs of insecurity and instability."
Former U.S. Ambassador to Israel Shapiro said the new wording "makes clear our opposition to unilateral steps by either side to undermine prospects for peace."
However, Shapiro also added that he firmly opposed any unilateral Israeli declaration of sovereignty and expansion of existing settlements.
"For the first time, we say clearly…. our opposition to Israeli settlement expansion. For the first time, we state clearly and by name our opposition to Israel's annexation of [Jewish communities in Judea and Samaria]. We state clearly that we will continue to stand against incitement and terror, and for the first time, we recognize the right of Palestinians to live in a state of their own."
The platform was passed unanimously Tuesday by a voice vote, but has to be ratified at the Democratic National Convention to be held in Wisconsin in August.
In the draft version released last week, new wording that changed previous Democratic policy included language that opposes Israeli applying sovereignty to settlements and supports Palestinian rights. However, the draft disappointed so-called "progressives" in the party by not using the word "occupation."
"Democrats oppose any unilateral steps by either side — including annexation — that undermine prospects for two states," the text says.
The platform also calls on the U.S. to return to the Iran nuclear deal and for the two-state solution to the Israeli-Arab conflict.
HELP ISRAELIS BATTLE CORONA!
Donate to the Corona Emergency Relief Fund. Coronavirus has taken a huge toll on the people of Israel. The poor, elderly and ill are most vulnerable.

Israeli soldiers, security officers and medical care providers operate under great danger and risk to life.

Over 1 million Israelis are out of work. Many cannot make ends meet. We provide financial aid, food, medical supplies and more. Funds are distributed where needed most. The time to act is now!

United with Israel