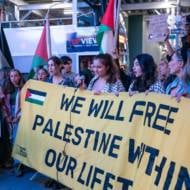 'Deeply Alarming': University May Require Applicants to Take Antisemitic Ethnic Studies Course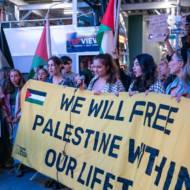 Some of the leading academics pushing for mandatory ethnics studies courses are ardent anti-Zionists.
By Dion J. Pierre, The Algemeiner
Nearly 100 religious, civil rights, and educational organizations are calling on the University of California (UC) to reject a proposal that would require applicants to schools in the UC system to take an ethnic studies course, arguing that anti-Zionist activists are developing and leading the effort to implement the measure.
The diverse coalition, which includes several Jewish groups and antisemitism watchdogs, wrote a letter this week to UC's Board of Regents urging them to oppose a proposal that, if approved, would lead to high schools across California offering ethnic studies courses based on the course criteria developed by ethnic studies experts promoting the idea.
"This is a deeply alarming prospect, given the openly antisemitic sentiments of these 'experts' and their own contention that anti-Zionism constitutes a core element of 'authentic' ethnic studies," the letter says.
A working group in the UC Academic Senate has been tasked with developing a proposal for the ethnic studies requirement. The idea — inspired by AB 101, state legislation approved in 2021 to make passing ethnic studies a requirement for high school graduation in California — outlines what UC would consider an acceptable ethnic studies course for admission.
Jewish groups initially opposed AB 101, arguing schools would be required to adopt curricula that included anti-Zionist material. However, the legislation eventually gained the support of the California Legislative Jewish Caucus — a voting bloc in the state legislature — which moved to add civil rights measures to the bill designed to prevent schools from teaching any content that promoted bigotry and discrimination. According to critics, however, these changes are no longer holding up with many school districts adopting the very curricula that the guardrails were intended to combat.
Still, supporters of the ethnic studies requirement argue these guardrails are roadblocks getting in the way of their mission.
This week's letter to UC's board explained that earlier this month, the university's Ethnic Studies Council, which represents over 300 ethnic studies faculty on UC campuses, sent its own missive to California Gov. Gavin Newsom (D) claiming that anti-discrimination "guardrails" included in AB 101 amount to "censorship" and are "being weaponized by pro-Israel groups to enact anti-Arab, anti-Palestinian censorship."
The Ethnic Council Studies letter also asserted that the "Israeli occupation of Palestinian territories has been deemed an apartheid regime."
Some of the leading academics pushing for mandatory ethnics studies courses are ardent anti-Zionists.
Christine Hong, chair of the Critical Race and Ethnic Studies department at UC Santa Cruz, co-chairs the UC Academic Senate working group developing the admissions proposal. She recently co-founded the Institute for the Critical Study of Zionism (ICSZ), which declares on its website that Zionism is a "colonial racial project" and that Israel is a "settler colonial state."
"The information provided above makes it crystal clear that the UC faculty driving the ethnic studies admission requirement proposal view opposition to Zionism and activism to harm the Jewish state and its supporters as core components of their ethnic studies discipline," this week's letter to the UC board states. "They promote antisemitic stereotypes of Jews and the Jewish state and encouragement to antisemitic activism as 'part and parcel' of ethnic studies courses at the University of California and beyond."
Last month, Hong argued during a podcast interview that ethnic studies should teach "the extraordinary violence of Zionism, the settler colonial violence, [and] the militarism that is inflicted on Palestine and Palestinian people." She added that "a critique of Zionism is part and parcel of the field of [ethnic studies]."
In the same interview, ICSZ's co-founder Emmaia Gelman said academics should "tie [Zionism] to this much larger Western supremacy and white supremacy" and "de-link the study of Zionism from Jewish studies."
Hong is also organizing ICSZ's first conference next month — part of which will take place at UC Santa Cruz — titled "Battling the 'IHRA Definition': Theory and Practice."
The conference will focus on combating the International Holocaust Remembrance Alliance's (IHRA) definition of antisemitism, which has been widely accepted by Jewish groups and well over 1,000 global entities, from countries to companies. Beyond classic antisemitic behavior associated with the likes of the medieval period and Nazi Germany, the examples include denial of the Holocaust and newer forms of antisemitism targeting Israel such as demonizing the Jewish state, denying its right to exist, and holding it to standards not expected of any other democratic state.
Critics argue that applying double standards to Israel and opposing Israel's continuation as the nation-state of the Jewish people may not necessarily be antisemitic, creating tighter standards around when anti-Israel speech and activity is antisemitic.
In this week's letter, the nearly 100 organizations said the ethnic studies admissions requirement's ideological roots make it "an outrage" and "both wrong and highly dangerous."
The letter concluded: "At a time of record high antisemitism, it must be stopped. We urge you to immediately reject the UC ethnic studies admissions requirement proposal and publicly guarantee that no version of it will be accepted in the future."
Do You Love Israel? Make a Donation to Show Your Support!
Donate to vital charities that protect Israelis and help inspire millions around the world to support Israel too!
Now more than ever, Israel needs your help to fight – and win – the battle of public opinion.
Anti-Israel bias and boycotts are out of control. Israel's enemies effectively use social media to incite brutal terror against innocent Israeli civilians. Please help us fight back!
The post 'Deeply Alarming': University May Require Applicants to Take Antisemitic Ethnic Studies Course first appeared on United with Israel.
United with Israel