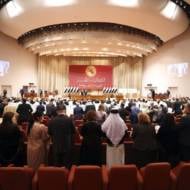 Death Penalty for Normalization With Israel Advances in Iraqi Parliament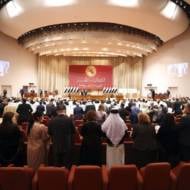 Bill targets Kurdish efforts to promote relations with Israel in the government, business and media sectors, rejects Abraham accords.
By Pesach Benson, United With Israel
Iraq's parliament, the Council of Representatives, advanced draft legislation to criminalize the normalization of ties with Israel on Wednesday. It carries the potential punishment of life imprisonment or execution, The New Arab reported.
According to the London-based news site, the bill specifically targets recent Kurdish efforts to promote relations with Israel in the government, business and media sectors. The legislation is also seen as an Iraqi rejection of the Abraham accords, which normalized Israeli ties with the United Arab Emirates, Bahrain and Morocco.
Sudan, which also signed the accords, has not moved to openly maintain ties. However, Gen. Abdel Fattah al-Burhan, who seized power in a January coup, has confirmed maintaining quiet security cooperation with Israel.
The bill was proposed by the Sadrist bloc, whose 73 seats make it the largest faction in Iraq's 329-member legislature.
The Sadrist bloc is loyal to Shiite cleric Muqtada al-Sadr, who at one point was sheltered in Iran for four years during the U.S. invasion of Iraq. The Iraqi cleric has been filmed alongside Iran's supreme leader Ayatollah Ali Khamenei and former Islamic Revolutionary Guard Corps Quds Force head Maj.-Gen. Qasem Soleimani.
The bill still has to pass a number of legislative stages before becoming law.
Mohammed al-Hayani, a leader in the pro-Iran Fatih Alliance, told The New Arab, ""We, as Fatih Alliance, totally refuse the issue of normalising ties with the Israeli entity. We will certainly vote in favour of the bill in the parliament."
In September, more than 300 Kurds, Sunnis and Shiites attended a conference in the Iraqi Kurdish city of Erbil, openly calling for Baghdad to normalize relations with Israel. Sheikh Wisam Al-Hardan, one of the speakers at the conference — who also penned a Wall St. Journal op-ed urging rapprochement — faces an arrest warrant by the Iraqi government and death threats from Iranian-backed militias.
Do You Love Israel? Make a Donation to Show Your Support!
Donate to vital charities that protect Israelis and help inspire millions around the world to support Israel too!
Now more than ever, Israel needs your help to fight – and win – the battle of public opinion.
Anti-Israel bias and boycotts are out of control. Israel's enemies effectively use social media to incite brutal terror against innocent Israeli civilians. Please help us fight back!
The post Death Penalty for Normalization With Israel Advances in Iraqi Parliament first appeared on United with Israel.
United with Israel