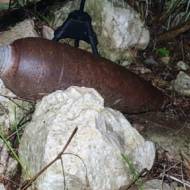 British Shell From Israel's Independence War Found Near Jerusalem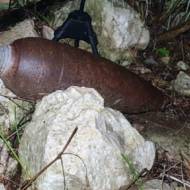 The British 81mm mortar shell contained about 500 grams of explosives.
By TPS
A British mortar bomb from Israel's War of Independence in 1948 was located in a wooded area near Ma'aleh Hahamisha, outside of Jerusalem, by a family walking in the area on Saturday afternoon.
Jerusalem District sappers were dispatched to the site, and they determined that it was a British 81mm mortar shell and contained about 500 grams of explosives, left behind during the War of Independence.
After the scene was closed off, the police sapper handled the bomb professionally and destroyed it on the spot.
The Israel Police "asks citizens who come across and locate suspicious items that are not identified, not to approach or touch them for fear that the item may explode and endanger human life."
Various types of armaments and explosives are discovered periodically around Israel.
On Sunday, the Ministry of Defense completed a series of controlled explosions of Syrian ammunition found about two months ago after a Syrian bunker was exposed during initiated work to clear a minefield in Mitzpe Gadot in the Golan Heights.
The explosion included hundreds of kilograms of mortar shells of various sizes, grenades, and more. The explosions were carried out for safety reasons, so as not to have to move the old ammunition.
The destruction of the Syrian ammunition is the final operation of clearing the minefield in the area of ​​Mitzpe Gadot and the customs house junction. The cleaned area will allow the thousands of visitors who visit the area each year to walk in it safely.
Bring Joy to Israeli Soldiers – Send Winter Care Packages!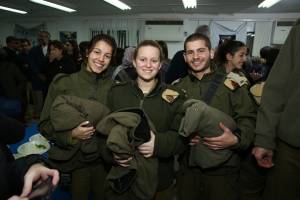 We are honored to thank the young men and women of the IDF who risk their lives every day to defend the citizens of Israel.
Join us in sending winter care packages and personal notes of support to Israeli soldiers who are out in the cold all day.
Warm up a soldier's heart with essential winter wear including fleece jackets, hats, gloves and more. Keep an entire unit warm!
THE SOLDIERS REALLY APPRECIATE YOUR LOVE AND CONCERN!
Click Here to Send Your Gift and Personal Note to Israeli Soldiers
The post British Shell From Israel's Independence War Found Near Jerusalem first appeared on United with Israel.
United with Israel