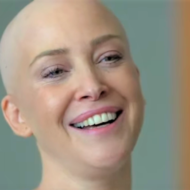 'Bomb Out of Nowhere': Former Miss Israel Fights Rare Form of Cancer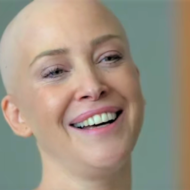 Twenty-three years after being crowned Miss Israel, Mirit Greenberg goes public with her battle against a rare type of breast cancer.
By Yakir Benzion, United With Israel
Mirit Greenberg was in the spotlight for several years after being crowned Miss Israel in 1997, but at the age of 26 she decided to focus on family and dropped out of public view.
Now at the age of 41 and a mother of four, she has stepped back in front of the cameras to raise awareness about breast cancer as she herself battles the disease.
"I did not know I was sick. I started having infections all over my body and I started going to the doctors. No one knew what I had," she told Channel 13 this week. In July, she decided to go public and reveal that her life had suddenly been turned upside down by cancer.
When she went for a mammogram, the doctor asked her why she had not come before and it was then that Mirit suddenly understood everything.
"You can see it on the doctors' faces that more or less, they knew the answer. I knew too," Greenberg said.
She was diagnosed with a rare type of breast cancer.
"It's a bomb that landed in my life out of nowhere," she said.
"It changed my whole life, my whole lifestyle, everything I loved. It gave a different meaning to everything."
Once diagnosed, she started chemotherapy and lost her hair, but she says, "I was lucky."
"It's a violent cancer that develops quickly. For half a year I could have had metastases all over my body."
Greenberg has been fighting for her life ever since and now is sure: she is not going to die.
She she had no problem revealing her story to followers on social media, but that was not the case when the time came to tell her children the hard news.
"I sat my son down, and told him, 'I have something to tell you. Mom has cancer.' So straight away his eyes went wide open and was shocked. I told him, 'But don't worry, it's a cancer that can be treated.'"
"'Are you not going to die?' he asked, 'I am not going to die,' I replied."
Even though she is in the recovery period from a mastectomy, she does not give up on helping her children with distance learning during the coronavirus lockdown. She tries to draw strength from her friends, thanks her husband at every moment, and does not stop smiling.
"This is a difficult time for all of us. In the end we will get out of this too,"she concluded.
"I feel like I do things exactly the way I wanted to. I do it in the Mirit way."
HELP ISRAELIS BATTLE CORONA!
Donate to the Corona Emergency Relief Fund. Coronavirus has taken a huge toll on the people of Israel. The poor, elderly and ill are most vulnerable.

Israeli soldiers, security officers and medical care providers operate under great danger and risk to life.

Over 1 million Israelis are out of work. Many cannot make ends meet. We provide financial aid, food, medical supplies and more. Funds are distributed where needed most. The time to act is now!
The post 'Bomb Out of Nowhere': Former Miss Israel Fights Rare Form of Cancer first appeared on United with Israel.

United with Israel