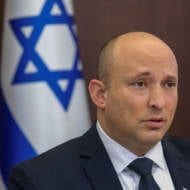 Bennett: 'Omicron Wave is Upon Us, Israel Could Reach 50,000 Cases Daily'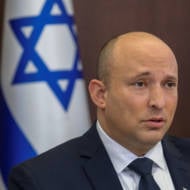 Despite suffering the most rapid spread yet of COVID-19, Israel removes its travel ban to the US and other countries. 
The Israeli Health Ministry has reported over the weekend and on Sunday morning record-breaking numbers of daily COVID-19 cases, nearing 20,000 per day.
In addition, the number of hospitalizations due to serious illness has risen from 338 a week ago to 524 this morning. The rapid spread of the virus in Israel aligns with the dramatic spike in morbidity rates worldwide, driven by the highly contagious Omicron variant.
Following Prime Minister Naftali Bennett's warning last week that Israel could reach 50,000 daily cases, the Israeli government convened this morning (Sunday) for its weekly cabinet meeting.
"The Omicron wave is upon us", Prime Minister Bennett said at the opening of the meeting, "and as you all are feeling, it is very contagious. Around the world, we are talking about verified cases on almost unprecedented scales. The entire world is in a complicated and chaotic situation. In the US alone, there are almost one million verified cases a day."
"Despite our preparations," Bennett continued, "the beginning of every wave is difficult and cumbersome, how much more so in a wave of mass infection such as Omicron. We are prepared with drugs, hospital beds, vaccines that are accessible to children, protection for the senior population, and the fourth dose of the vaccine, and we are currently seeing to tests as well."
Meanwhile, Leondios Kostrikis, a professor of biological sciences at the University of Cyprus, claims to have discovered a "Deltacron" variant, which is a combination of the "Delta" and "Omicron" strains. So far, Kostrikis and his team have found 25 cases of the virus, according to a report in Bloomberg. It's still too early to tell whether there are more cases of the strain, if it will reach Israel, or what impacts it could have.
However, despite the rapid spread of the pandemic, the Israeli Health Ministry has removed many countries, including the US, Canada, the UK and mor,e from its "Red List" and marked them as "Orange". This means that Israel's travel ban to these countries – which had been in effect until last week – has now been removed, enabling Israelis to travel to these destinations once again.
"We will find the balance between a functioning economy and management of the crisis", Prime Minister Bennett tried to remain optimistic. "This wave will not last forever. There will be several tough weeks but we will get through them together."
Bring Joy to Israeli Soldiers – Send Winter Care Packages!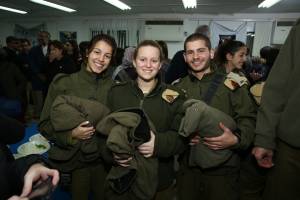 We are honored to thank the young men and women of the IDF who risk their lives every day to defend the citizens of Israel.
Join us in sending winter care packages and personal notes of support to Israeli soldiers who are out in the cold all day.
Warm up a soldier's heart with essential winter wear including fleece jackets, hats, gloves and more. Keep an entire unit warm!
THE SOLDIERS REALLY APPRECIATE YOUR LOVE AND CONCERN!
Click Here to Send Your Gift and Personal Note to Israeli Soldiers
The post Bennett: 'Omicron Wave is Upon Us, Israel Could Reach 50,000 Cases Daily' first appeared on United with Israel.
United with Israel