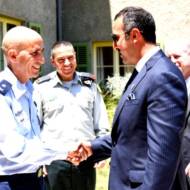 Bahraini Diplomat Openly Meets Top IDF Officer Dealing With Iran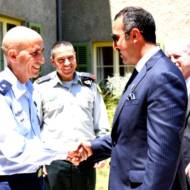 In signal to Iran, photo of Sheikh Abdullah bin Ahmed Al Khalifa and Maj. Gen. Tal Kelman was posted on IDF's Arabic Twitter account.
By Pesach Benson, United With Israel
In a rare move, a visiting Bahraini diplomat on Tuesday openly met with the IDF officer in charge of Iran-related matters. And in an apparent signal to Iran, the IDF posted a photo of the two on its Arabic language Twitter feed.
Sheikh Abdullah bin Ahmed Al Khalifa, Bahrain's Undersecretary for International Relations, met with Maj. Gen. Tal Kelman, head of the Strategic Division of the Israel Defense Forces' Planning Directorate. Al Khalifa is also deputy secretary-general of Bahrain's Supreme Defense Council, which makes the highest level decisions regarding the Gulf state's defense and security.
Sensitive to Arab public opinion, Arab diplomats who meet with IDF officers do so behind closed doors.
According to an IDF statement, Al Khalifa and Kelman discussed building security ties.
Al Khalifa's four-day visit to Israel is meant to lay the groundwork for a meeting between Foreign Minister Yair Lapid and his Bahraini counterpart, Dr. Abdullatif bin Rashid Al-Zayani. Al Khalifa has already met with Lapid and President Isaac Herzog, He is scheduled to meet with Prime Minister Naftali Bennett.
Israel had agreed to normalize ties with Bahrain and the United Arab Emirates with the 2020 Abraham Accords. Over the course of the past year, high-level diplomatic visits were repeatedly postponed because of Covid restrictions, Israeli election campaigns and other scheduling difficulties.
Al Khalifa began his visit on Sunday by slamming the Iranian nuclear deal.
The JCPOA agreement, he said, "has fueled crises across the Middle East. It has increased the number of refugees that have fled into Europe. It has caused more instigation of extremism and hatred in many different regions across the Middle East."
"I did not see a single positive thing coming out of this agreement, and I'm sure the Biden administration is aware of the concerns in the region and the messages he had received from Gulf states."
PLANT FRUIT TREES IN ISRAEL BEFORE SABBATICAL BEGINS!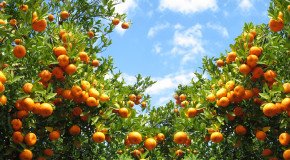 HELP ISRAELI FARMERS PLANT NOW – BEFORE SHMITA!

TIME RUNNING OUT to make the Land even more fruitful while helping Israeli farmers offset financial losses from Covid, Hamas arson fires and the upcoming Sabbatical year.

"…the seventh year shall be a complete rest for the Land…"

"…I will ordain My blessing for you…"
(Leviticus 25:4,21)
CLICK TO PLANT YOUR FRUIT TREES IN ISRAEL TODAY, BEFORE IT'S TOO LATE!
The post Bahraini Diplomat Openly Meets Top IDF Officer Dealing With Iran first appeared on United with Israel.
United with Israel