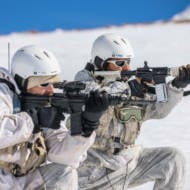 Are Former IDF Commandos Ukraine's Secret Weapon in Russia War?

The Israeli media reported that former IDF commandos are secretly providing training to Ukrainian civilians.
By United with Israel Staff
As Ukraine struggles to beat back Russian forces that began invading the country on February 24, news of a secret weapon of sorts emerged on Friday.
Specifically, Israeli daily Yedioth Ahronoth newspaper reported that a troop of ex-commandos from Israel has been training Ukrainian civilians at a top secret location in the western portion of Ukraine.
The report specified that the campaign is not an official program of the Israeli government, with an Israeli official commenting to the newspaper that the powers-that-be know the program exists, but are looking the other way.
The commandos are reportedly training both men and women, who come from all walks of life, from professions like law to trades like the culinary arts.
Leading the program is an Israeli ex-commando referred to as "Danny" in the Yedioth Ahronoth report.
Danny became familiar with Ukraine during his first visit there in 1997. He was also present in the Eastern European nation when Russia invaded Crimea in 2014.
The former IDF commando cited as his inspiration for assisting Ukrainians the impulse to help others protect their homeland, a daily exercise for members of the Israeli military who defend the Jewish state from not only the Iranian threat, but also Islamic terror groups operating within Israel.
Do You Love Israel? Make a Donation to Show Your Support!
Donate to vital charities that protect Israelis and help inspire millions around the world to support Israel too!
Now more than ever, Israel needs your help to fight – and win – the battle of public opinion.
Anti-Israel bias and boycotts are out of control. Israel's enemies effectively use social media to incite brutal terror against innocent Israeli civilians. Please help us fight back!
The post Are Former IDF Commandos Ukraine's Secret Weapon in Russia War? first appeared on United with Israel.
United with Israel