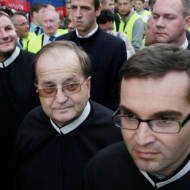 Anti-Semitic Priest Banned by Canadian Church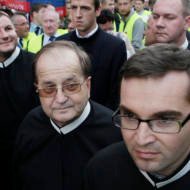 Anti-Semitic priest from Poland who was twice denounced by Popes is now banned from speaking in Alberta.
By Yakir Benzion, United With Israel
A virulently anti-Semitic Polish priest has been banned by the Catholic Church in western Canada from speaking in any of its parishes.
The Catholic Archdiocese of Edmonton issued the ban on Tadeusz Rydzyk who heads a radio station called Radio Maryja in Poland with a long history of airing anti-Semitic views.
Bnai Brith Canada said its Alberta Public Affairs Manager, Abe Silverman, met in Edmonton with Archbishop Richard Smith and recently received word that the Church would ensure that Rydzyk would not speak at any of its churches in the future.
"We are grateful to the archbishop and his diocese for taking this principled and very important step to recognize that there are just some people in the world that you want to try and avoid because they're divisive and racist," Silverman said.
Radio Maryja has long been known for its frequent anti-Semitic content. According to the ADL, it was sanctioned in 2016 by Poland's State Council of Radio and Television for alleging that United States Senators of Jewish heritage were critical of the Polish government because of their Jewish identity.
Also in 2016, a regular commentator to the radio station, Stanisław Michalkiewicz, blamed Jews for a series of social ills allegedly impacting Polish society, referring to "the mischievous Jews." Meanwhile, Rydzyk himself on a separate occasion condemned what he referred to as "synagogue-type behavior."
Rydzyk had been visiting Canada to fundraise for his media enterprise in Poland. In 2018, when it became public that he was scheduled to speak at Calgary's Our Lady Queen of Peace Parish, it was former Alberta Deputy Premier with Polish roots, Thomas Lukaszuk, who sounded the alarm.
"I commend Archbishop Smith for his leadership in opposing xenophobia and barring Rydzyk, and I hope that all other Canadian archdioceses will follow this example," Lukaszuk said. "The messages of hate and division disseminated by Rydzyk and his Radio Maryja have no place in our Catholic and Polish-Canadian communities. They don't reflect our shared values and must be opposed."
Rydzyk has the dubious honor of being rebuked by two separate Popes for his extremism, by both Pope John Paul II and subsequently by Pope Benedict XVI.
HELP ISRAELIS BATTLE CORONA!
Donate to the Corona Emergency Relief Fund. Coronavirus has taken a huge toll on the people of Israel. The poor, elderly and ill are most vulnerable.

Israeli soldiers, security officers and medical care providers operate under great danger and risk to life.

Over 1 million Israelis are out of work. Many cannot make ends meet. We provide financial aid, food, medical supplies and more. Funds are distributed where needed most. The time to act is now!

United with Israel