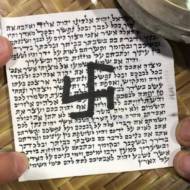 Anti-Semites Scrawl Swastika On Sacred Jewish Item in Germany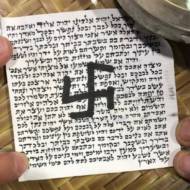 Vandals ruined a mezuzah at Berlin synagogue at the same time that attackers seriously injured a Jewish man in Hamburg.
By Yakir Benzion, United With Israel
Police in Berlin are investigating the latest anti-Semitic incident in the city:The mezuzah at the entrance of the Tiferet Israel synagogue was broken open and the parchment was scrawled with a Nazi swastika.
The Jüdische Allgemeine Jewish weekly newspaper reported that the rabbi of the synagogue, Reuven Yaacobov, noticed the vandalism and notified police.
Authorities said the anti-Semitic act was apparently committed between Rosh Hashana and Yom Kippur. The police confirmed that the German state security services took over the investigation.
Yaacobov said he was appalled by the act, but that no one would be intimidated by the vandalism.
"We Jews are here, we stay here. We don't focus on the negative, we want to spread more positive things," Yaacobov told the paper, saying he will replace the mezuzah with a new, "more beautiful and bigger" one.
In the bible, Jews are commanded to affix a "mezuzah" to the entrances of their dwellings. A mezuzah is a piece of parchment containing passages from the book of Deuteronomy, which are collectively known as the "Shema." The phrase "you shall write them on the doorposts of your house and on your gates" is part of the passages, and the parchment is placed in a decorative container and usually mounted on a doorframe.
German Foreign Minister Heiko Maas tweeted: "It just hurts to see something so disgusting. This crime must be solved quickly and those responsible punished! We stand by our Jewish friends closely and with compassion."
Israel's Ambassador to Germany, Jeremy Issacharoff, also tweeted, "This heinous and deeply insulting act of desecration must be investigated immediately & those responsible must be brought to justice. There must be no tolerance for such shameful acts that can ultimately lead to physical assault & violence."
The incident occurred only days before a Jewish man was assaulted with a shovel in front of a Hamburg synagogue. The 26-year-old victim, who was recognizable as a Jew by his kippah, was able to escape his attacker but was hospitalized with serious head injuries. Police said they arrested the 29-year-old perpetrator.
Last month, German Chancellor Angela Merkel admitted that anti-Semitism in her country has never disappeared and that many Jews do not feel safe there.
"We can be glad of flourishing Jewish life," Merkel said, "but that is only one part of today's reality. The other part of today's reality is that many Jews don't feel safe and respected in our country, and it causes me great concern."
"It is a disgrace, and it shames me deeply, how racism and anti-Semitism are expressed in our country in these times," Merkel said. "Racism and anti-Semitism never disappeared, but for some time now they have become more visible and uninhibited."
HELP ISRAELIS BATTLE CORONA!
Donate to the Corona Emergency Relief Fund. Coronavirus has taken a huge toll on the people of Israel. The poor, elderly and ill are most vulnerable.

Israeli soldiers, security officers and medical care providers operate under great danger and risk to life.

Over 1 million Israelis are out of work. Many cannot make ends meet. We provide financial aid, food, medical supplies and more. Funds are distributed where needed most. The time to act is now!

United with Israel