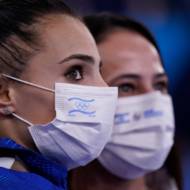 Angry Russians Are Trolling Israeli Gold Medalist on Social Media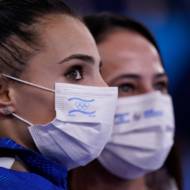 Rhythmic gymnast Linoy Ashram faces online abuse from Russian fans who claim Dina Averina should have won.
By Pesach Benson, United With Israel
Linoy Ashram, Israel's gold medal-winning rhythmic gymnast, is facing a wave of abuse from Russian trolls on Instagram. The Russians feel that the judges were biased against Russia's Dina Averina.
In the rhythmic gymnastics individual all-around competition, gymnasts perform with each of the sport's four apparatuses — a hoop, a ball, a pair of clubs and a ribbon — tossing and catching them while dancing and spinning in leotards heavy with thousands of crystals.
In her final performance in the four-round competition, Ashram danced to a techno remix of the Jewish celebratory folk song "Hava Nagila" as the crowd clapped along. Ashram, wearing a blue and white feathered bird leotard in the colors of the Israeli flag, missed a catch, and spectators gasped.
Dina Averina, who was set to perform just after Ashram, saw her mistake and was hopeful it was a chance for her to take the gold medal back to Russia.
Despite Ashram's mistake, she edged Averina by a mere 0.15 points.
Russian sporting officials accused the judges of bias and said they would lodge a complaint with the International Gymnastics Federation.
"Dina didn't lose, she won. But unfortunately the judging was egregiously unjust," Irina Viner, president of the Russian Rhythmic Gymnastics Federation told Russia's state-owned RT News. "Enough, they got tired of Russia. And the judges decided to support this Israeli woman."
Russia has swept the sports' gold medals in every Olympics since 2000. Averina, a three-time world champion, said after the competition that she wasn't expecting gold, but she'd been working hard to win it.
The trolls went after Ashram on Instagram, where she posted a video of her and her teammates celebrating the gold. Comments accused Ashram of not being worthy of a gold medal, accused the judges of bias, and insisted that Averina deserved the gold medal.
"Aren't you ashamed to share this?" commented one of the Russians on Ashram's video. The comment was liked more than 600 times.
Ashram's Facebook account was also trolled, although her most recent post on that platform was before the final.
Rhythmic gymnasts are judged on two criteria, the difficulty of their routines and how well they execute them.
Associated Press contributed to this report.
The post Angry Russians Are Trolling Israeli Gold Medalist on Social Media first appeared on United with Israel.
United with Israel