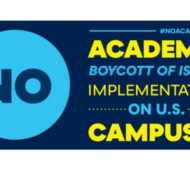 ACT NOW! Demand Government Slash Funds for Anti-Israel Boycotters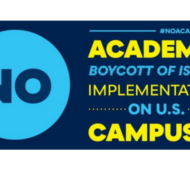 Tell the federal government not to fund the activities of public universities that boycott the Jewish state!
If you are an American citizen or permanent resident, your tax dollars support institutions of higher education throughout the country, which should not be used to promote a boycott of the world's only Jewish state.
But that's exactly what the Middle East Studies Association's (MESA) wants to do according to a recent vote it held to support an anti-Israel boycott.
On March 23, 2022, MESA voted to endorse the Palestinian-orchestrated boycott, divestment, and sanctions (BDS) campaign against Israel, officially adopting a BDS resolution. At its core, BDS opposes the Jewish people's self-determination in its historic national homeland, the Land of Israel, and denies the State of Israel's right to exist as a Jewish nation-state.
BDS seeks to isolate Israel economically, politically, and culturally, as steps toward the ultimate elimination of the Jewish state. BDS' official guidelines state that "projects with all Israeli academic institutions should come to an end," and demand that students seeking to study in Israel be denied letters of recommendation.
In response, 87 organizations signed a letter addressed to the U.S. Department of Education, the governmental agency that ultimately decides on federal funding for higher education.
The campaign was organized by the AMCHA Initiative and states that using federal funds "to implement an academic boycott that directly contravenes the purposes for which these funds have been granted" is totally "unacceptable."
"The campaign has been widely condemned by Jewish leaders worldwide, including major American Jewish organizations, for rejecting Jewish rights and trafficking in antisemitic tropes," reported The Algemeiner in March.
The letter also warns that MESA's endorsement of an anti-Israel boycott may embolden "directors and affiliated faculty in federally-funded Middle East Studies National Resource Centers (NRCs)" to "implement the boycott in ways that will substantively hurt U.S. students and faculty and directly violate the legislative intent of Title VI of the Higher Education Act."
The letter added, "We therefore urge you to establish safeguards to ensure that an academic boycott of Israel, or of any country within the academic purview of a federally funded area studies program, may never be implemented by the program's affiliated personnel."
Now you can do YOUR part to help combat the boycott!

Sign the petition to ensure that an academic boycott of Israel may never be implemented at public universities in the U.S. by clicking here!
Notice: JavaScript is required for this content.

var formDisplay=1;var nfForms=nfForms||[];var form=[];form.id='1115′;form.settings={"objectType":"Form Setting","editActive":true,"title":"CTA – AMCHA BDS","created_at":"2022-04-28 08:32:35″,"default_label_pos":"above","show_title":"0″,"clear_complete":"1″,"hide_complete":"1″,"logged_in":"","wrapper_class":"","element_class":"","key":"","add_submit":"0″,"changeEmailErrorMsg":"Please enter a valid email address!","changeDateErrorMsg":"Please enter a valid date!","confirmFieldErrorMsg":"These fields must match!","fieldNumberNumMinError":"Number Min Error","fieldNumberNumMaxError":"Number Max Error","fieldNumberIncrementBy":"Please increment by ","formErrorsCorrectErrors":"Please correct errors before submitting this form.","validateRequiredField":"This is a required field.","honeypotHoneypotError":"Honeypot Error","fieldsMarkedRequired":"Fields marked with an * are required","currency":"","unique_field_error":"A form with this value has already been submitted.","not_logged_in_msg":"","sub_limit_msg":"The form has reached its submission limit.","calculations":[],"formContentData":["take_action_1562658975285″,"fname_100″,"lname_101″,"email_102″,"phone_1562658346136″,"action_i_took_1573721054655″,"tell_us_any_other_action_you_took_1562658698067″,"recaptcha_1562658810206″,"submit_1562658826061″],"drawerDisabled":false,"allow_public_link":0,"embed_form":"","repeatable_fieldsets":"","ninjaForms":"Ninja Forms","fieldTextareaRTEInsertLink":"Insert Link","fieldTextareaRTEInsertMedia":"Insert Media","fieldTextareaRTESelectAFile":"Select a file","formHoneypot":"If you are a human seeing this field, please leave it empty.","fileUploadOldCodeFileUploadInProgress":"File Upload in Progress.","fileUploadOldCodeFileUpload":"FILE UPLOAD","currencySymbol":"$","thousands_sep":",","decimal_point":".","siteLocale":"en_US","dateFormat":"d/m/Y","startOfWeek":"0″,"of":"of","previousMonth":"Previous Month","nextMonth":"Next Month","months":["January","February","March","April","May","June","July","August","September","October","November","December"],"monthsShort":["Jan","Feb","Mar","Apr","May","Jun","Jul","Aug","Sep","Oct","Nov","Dec"],"weekdays":["Sunday","Monday","Tuesday","Wednesday","Thursday","Friday","Saturday"],"weekdaysShort":["Sun","Mon","Tue","Wed","Thu","Fri","Sat"],"weekdaysMin":["Su","Mo","Tu","We","Th","Fr","Sa"],"currency_symbol":"","beforeForm":"","beforeFields":"","afterFields":"","afterForm":""};form.fields=[{"objectType":"Field","objectDomain":"fields","editActive":false,"order":1,"idAttribute":"id","type":"html","label":"Take Action","default":"
Tell Us What You've Done About This Issue","container_class":"","element_class":"","key":"take_action_1562658975285″,"drawerDisabled":"","field_label":"Take Action","field_key":"take_action_1562658975285″,"id":3026,"beforeField":"","afterField":"","value":" Tell Us What You've Done About This Issue","label_pos":"above","parentType":"html","element_templates":["html","input"],"old_classname":"","wrap_template":"wrap"},{"objectType":"Field","objectDomain":"fields","editActive":false,"order":2,"idAttribute":"id","type":"firstname","label":"First Name","key":"fname_100″,"label_pos":"above","required":1,"default":"","placeholder":"","container_class":"","element_class":"","admin_label":"","help_text":"","custom_name_attribute":"fname","personally_identifiable":1,"value":"","manual_key":1,"drawerDisabled":"","field_label":"First Name","field_key":"fname_100″,"id":3027,"beforeField":"","afterField":"","parentType":"firstname","element_templates":["firstname","input"],"old_classname":"","wrap_template":"wrap"},{"objectType":"Field","objectDomain":"fields","editActive":false,"order":3,"idAttribute":"id","type":"lastname","label":"Last Name","key":"lname_101″,"label_pos":"above","required":1,"default":"","placeholder":"","container_class":"","element_class":"","admin_label":"","help_text":"","custom_name_attribute":"lname","personally_identifiable":1,"value":"","manual_key":1,"drawerDisabled":"","field_label":"Last Name","field_key":"lname_101″,"id":3028,"beforeField":"","afterField":"","parentType":"lastname","element_templates":["lastname","input"],"old_classname":"","wrap_template":"wrap"},{"objectType":"Field","objectDomain":"fields","editActive":false,"order":4,"idAttribute":"id","type":"email","label":"Email","key":"email_102″,"label_pos":"above","required":1,"default":"","placeholder":"","container_class":"","element_class":"","admin_label":"","help_text":"","custom_name_attribute":"email","personally_identifiable":1,"value":"","manual_key":1,"drawerDisabled":"","field_label":"Email","field_key":"email_102″,"id":3029,"beforeField":"","afterField":"","parentType":"email","element_templates":["email","input"],"old_classname":"","wrap_template":"wrap"},{"objectType":"Field","objectDomain":"fields","editActive":false,"order":5,"idAttribute":"id","type":"phone","label":"Phone","key":"phone_1562658346136″,"label_pos":"above","required":"","default":"","placeholder":"","container_class":"","element_class":"","input_limit":"","input_limit_type":"characters","input_limit_msg":"Character(s) left","manual_key":"","admin_label":"","help_text":"","mask":"","custom_mask":"","custom_name_attribute":"phone","personally_identifiable":1,"value":"","field_label":"Phone","field_key":"phone_1562658346136″,"id":3030,"beforeField":"","afterField":"","parentType":"textbox","element_templates":["tel","textbox","input"],"old_classname":"","wrap_template":"wrap"},{"objectType":"Field","objectDomain":"fields","editActive":false,"order":6,"idAttribute":"id","type":"listcheckbox","label":"Action I took:","key":"action_i_took_1573721054655″,"label_pos":"above","required":1,"options":[{"errors":[],"max_options":0,"label":"Signed AMCHA petition.","value":"signed-amcha-petition","calc":"","selected":0,"order":0,"settingModel":{"settings":false,"hide_merge_tags":false,"error":false,"name":"options","type":"option-repeater","label":"Options Add New