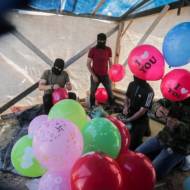 ACT NOW! Demand BBC Stop Whitewashing Palestinian Explosive Balloon Terror as 'Flying 'Kites'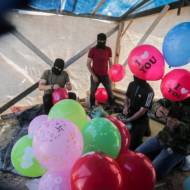 According to a leading watchdog, BBC's Newshour program "presents disinformation and lies as 'context' to balloon attacks." The UK public broadcaster must be held accountable for its content!
On August 13, the BBC World Service radio program "Newshour" presented a show featuring Tareq Baconi of the International Crisis Group, who was described as a "professional anti-Israel activist" by a leading watchdog group called the Committee for Accuracy in Middle East Reporting in America (CAMERA), which exposed the BBC's latest biased report.
According to CAMERA, the BBC also failed to mention that Baconi's employer receives donations from Qatar, a nation that bankrolls the Hamas terror group in Gaza to the tune of tens of millions of dollars a month.
In the past, Baconi has referred to Hamas as "a multifaceted liberation organization," not a terrorist group, despite the fact that it is designated as such by the United States, Canada, and Israel.
During the BBC Newshour segment, "Baconi began by downplaying the incendiary balloons, avoiding the topic of the balloons carrying explosive devices and presenting his own rhetoric and falsehoods as 'context,'" reported CAMERA.
Specifically, he called the balloons "essentially flying kites," ignoring the millions of dollars of damage caused by massive fires from Palestinian airborne incendiary devices, which have destroyed farmland and nature preserves and decimated wildlife indigenous to the area.
The BBC permitted Baconi to continue unchallenged spouting propaganda about the density of Gaza's population and the presence of so-called "refugees" in an area exclusively controlled by Palestinians.
Baconi even claimed that Israel "target[s] sewage treatment plants [and] water sanitation plants" in Gaza, in addition to misrepresenting the number of Palestinians "injured by Israeli live fire" during the Gaza "March of Return" border riots that began in 2018.
Neither the BBC nor Baconi "bothered to inform listeners" that terror factions in the Gaza Strip have launched over 168 missile attacks against Israeli civilian since a 2019 "ceasefire," or that "Hamas recently dismissed an opportunity to bring an end to the blockade," CAMERA reported.
The BBC must stop its biased anti-Israel reporting and promotion of blatant Palestinian propaganda!

Send the BBC World Service your own message telling them to stop giving professional anti-Israel activists a platform to push their agenda, or use this template: Dear Sir or Madam, I am writing to demand that the BBC World Service comply with its own editorial guidelines and stop misinforming listeners with falsehoods and distortions about Palestinian terrorism, a practice that stands in the way of peace between Israel and the Palestinians. This message is specifically in reference to your Aug. 13, 2020 Newshour program featuring Tareq Baconi, a broadcast the Committee for Accuracy in Middle East Reporting in America flagged for spreading "disinformation and lies as 'context' to balloon attacks."

1. Send the BBC World Service an email at worldservice.letters@bbc.co.uk.
2. Send the BBC World Service a message on Facebook by clicking here.
3. 2. Send the BBC World Service a message on Twitter by clicking here.
Notice: JavaScript is required for this content.

var formDisplay=1;var nfForms=nfForms||[];var form=[];form.id='1065′;form.settings={"objectType":"Form Setting","editActive":true,"title":"CTA – BBC Balloons","created_at":"2020-08-28 11:21:23″,"default_label_pos":"above","show_title":"0″,"clear_complete":"1″,"hide_complete":"1″,"logged_in":"","wrapper_class":"","element_class":"","key":"","add_submit":"0″,"changeEmailErrorMsg":"Please enter a valid email address!","changeDateErrorMsg":"Please enter a valid date!","confirmFieldErrorMsg":"These fields must match!","fieldNumberNumMinError":"Number Min Error","fieldNumberNumMaxError":"Number Max Error","fieldNumberIncrementBy":"Please increment by ","formErrorsCorrectErrors":"Please correct errors before submitting this form.","validateRequiredField":"This is a required field.","honeypotHoneypotError":"Honeypot Error","fieldsMarkedRequired":"Fields marked with an * are required","currency":"","unique_field_error":"A form with this value has already been submitted.","not_logged_in_msg":"","sub_limit_msg":"The form has reached its submission limit.","calculations":[],"formContentData":["take_action_1562658975285″,"fname_100″,"lname_101″,"email_102″,"phone_1562658346136″,"action_i_took_1573721054655″,"tell_us_any_other_action_you_took_1562658698067″,"recaptcha_1562658810206″,"submit_1562658826061″],"drawerDisabled":false,"allow_public_link":0,"embed_form":"","ninjaForms":"Ninja Forms","fieldTextareaRTEInsertLink":"Insert Link","fieldTextareaRTEInsertMedia":"Insert Media","fieldTextareaRTESelectAFile":"Select a file","formHoneypot":"If you are a human seeing this field, please leave it empty.","fileUploadOldCodeFileUploadInProgress":"File Upload in Progress.","fileUploadOldCodeFileUpload":"FILE UPLOAD","currencySymbol":"$","thousands_sep":",","decimal_point":".","siteLocale":"en_US","dateFormat":"d/m/Y","startOfWeek":"0″,"of":"of","previousMonth":"Previous Month","nextMonth":"Next Month","months":["January","February","March","April","May","June","July","August","September","October","November","December"],"monthsShort":["Jan","Feb","Mar","Apr","May","Jun","Jul","Aug","Sep","Oct","Nov","Dec"],"weekdays":["Sunday","Monday","Tuesday","Wednesday","Thursday","Friday","Saturday"],"weekdaysShort":["Sun","Mon","Tue","Wed","Thu","Fri","Sat"],"weekdaysMin":["Su","Mo","Tu","We","Th","Fr","Sa"],"currency_symbol":"","beforeForm":"","beforeFields":"","afterFields":"","afterForm":""};form.fields=[{"objectType":"Field","objectDomain":"fields","editActive":false,"order":1,"type":"html","label":"Take Action","default":"
Tell Us What You've Done About This Issue","container_class":"","element_class":"","key":"take_action_1562658975285″,"drawerDisabled":"","field_label":"Take Action","field_key":"take_action_1562658975285″,"id":2576,"beforeField":"","afterField":"","value":" Tell Us What You've Done About This Issue","label_pos":"above","parentType":"html","element_templates":["html","input"],"old_classname":"","wrap_template":"wrap"},{"objectType":"Field","objectDomain":"fields","editActive":false,"order":2,"type":"firstname","label":"First Name","key":"fname_100″,"label_pos":"above","required":1,"default":"","placeholder":"","container_class":"","element_class":"","admin_label":"","help_text":"","custom_name_attribute":"fname","personally_identifiable":1,"value":"","manual_key":1,"drawerDisabled":"","field_label":"First Name","field_key":"fname_100″,"id":2577,"beforeField":"","afterField":"","parentType":"firstname","element_templates":["firstname","input"],"old_classname":"","wrap_template":"wrap"},{"objectType":"Field","objectDomain":"fields","editActive":false,"order":3,"type":"lastname","label":"Last Name","key":"lname_101″,"label_pos":"above","required":1,"default":"","placeholder":"","container_class":"","element_class":"","admin_label":"","help_text":"","custom_name_attribute":"lname","personally_identifiable":1,"value":"","manual_key":1,"drawerDisabled":"","field_label":"Last Name","field_key":"lname_101″,"id":2578,"beforeField":"","afterField":"","parentType":"lastname","element_templates":["lastname","input"],"old_classname":"","wrap_template":"wrap"},{"objectType":"Field","objectDomain":"fields","editActive":false,"order":4,"type":"email","label":"Email","key":"email_102″,"label_pos":"above","required":1,"default":"","placeholder":"","container_class":"","element_class":"","admin_label":"","help_text":"","custom_name_attribute":"email","personally_identifiable":1,"value":"","manual_key":1,"drawerDisabled":"","field_label":"Email","field_key":"email_102″,"id":2579,"beforeField":"","afterField":"","parentType":"email","element_templates":["email","input"],"old_classname":"","wrap_template":"wrap"},{"objectType":"Field","objectDomain":"fields","editActive":false,"order":5,"type":"phone","label":"Phone","key":"phone_1562658346136″,"label_pos":"above","required":"","default":"","placeholder":"","container_class":"","element_class":"","input_limit":"","input_limit_type":"characters","input_limit_msg":"Character(s) left","manual_key":"","admin_label":"","help_text":"","mask":"","custom_mask":"","custom_name_attribute":"phone","personally_identifiable":1,"value":"","field_label":"Phone","field_key":"phone_1562658346136″,"id":2580,"beforeField":"","afterField":"","parentType":"textbox","element_templates":["tel","textbox","input"],"old_classname":"","wrap_template":"wrap"},{"objectType":"Field","objectDomain":"fields","editActive":false,"order":6,"type":"listcheckbox","label":"Action I took:","key":"action_i_took_1573721054655″,"label_pos":"above","required":1,"options":[{"errors":[],"max_options":0,"label":"Sent the BBC World Service an email.","value":"sent-the-bbc-world-service-an-email","calc":"","selected":0,"order":0,"settingModel":{"settings":false,"hide_merge_tags":false,"error":false,"name":"options","type":"option-repeater","label":"Options Add New