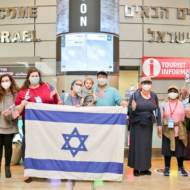 20,000 Olim from 70 Countries Moved to Israel in 2020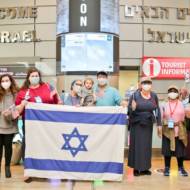 Despite the coronavirus pandemic, more than 20,000 people from 70 countries moved to Israel in 2020.
By Yakir Benzion, United With Israel
Despite a year battered by the global COVID-19 pandemic, more than 20,000 individuals made Aliyah (immigrated to Israel) from nearly 70 countries in 2020, the Jewish Agency for Israel (JAFI) announced Monday.
"We didn't know how Jews from all over the world would get to Israel this year," said JAFI Chairman Isaac Herzog. "With no flights and countries on lockdown, an amazing thing happened: 20,000 Jews made Aliya to Israel in the year of the coronavirus."
"There's nothing more exciting than seeing these amazing children who immigrated this year . . . and to wish them and all their friends that we will get through the pandemic quickly," Herzog added."We hope 2021 will be a better year and we wish success to all these amazing immigrants."
JAFI figures showed that around 10,200 immigrants arrived from countries of the former Soviet Union; approximately 3,120 from Western Europe (including 2,220 from France – nearly the same number as in 2019); around 2,850 from North America (with 2,550 from the U.S. and 300 from Canada); about 1,500 from Latin America; around 280 from South Africa; and nearly 90 from Australia and New Zealand.
The total number of olim from Ethiopia in 2020 is expected to be 1,200, of which 650 arrived in December as part of Operation Zur Israel and another 300 olim who will land on the last day of the year.
The Aliyah numbers for the year coincided with a sharp increase in people interested in moving to Israel. Since the start of the year, The Jewish Agency has received around 160,000 inquiries about immigration to Israel, and has opened roughly 41,000 new Aliyah application files, including 28,000 files from Western countries – twice the number opened in 2019.
There was also a 41 percent increase in files opened for young adults aged 18-35 from Western countries. The Jewish Agency estimates that tens of thousands of people participated in Aliyah-related programming organized together with Ofek Israeli and the Ministry of Aliyah and Integration, which were held virtually due to pandemic-related restrictions.
According to Jewish Agency estimates, Israel can expect an influx of about 250,000 olim to Israel over the next three to five years, assuming the Government of Israel implements a national plan for such a large wave of immigration and absorption.
THE DREAM RAFFLE – Win a Luxury Jerusalem Home!
THE CITY. THE DREAM. THE CHANCE OF A LIFETIME!
Your brand new Million Dollar Jerusalem apartment with an awesome view of the Temple Mount is just a few clicks away.
The keys to a luxury Jerusalem apartment can be yours forever.
And at the same time support great causes like United with Israel!
The Dream Raffle may sound too good to be true… but it is real. Enter now before it's too late!
The post 20,000 Olim from 70 Countries Moved to Israel in 2020 first appeared on United with Israel.

United with Israel