VIDEO: Woman Rips Down Holiday Poster at NYC Synagogue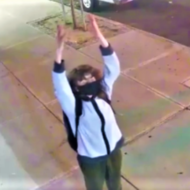 Surveillance footage shot in New York caught a woman shredding a a poster outside an Upper East Side synagogue.
Police are investigating an incident that occurred last Wednesday in front of the Chabad Israel Center on New York's Upper East Site in which a woman tore down a poster displaying the synagogue's prayer service schedule.
"The woman — shown wearing a black-and-white jacket, black face mask, black pants and black backpack — remained at large Thursday, and the NYPD's Hate Crime Task Force is probing the incident," reported the NY Post.
New York has been rocked by a wave of violent anti-Semitic hate crimes and its mayor, Bill de Blasio, has been accused of singling out the Jewish community for rebuke during the coronavius pandemic.
HELP ISRAELIS BATTLE CORONA!
Donate to the Corona Emergency Relief Fund. Coronavirus has taken a huge toll on the people of Israel. The poor, elderly and ill are most vulnerable.

Israeli soldiers, security officers and medical care providers operate under great danger and risk to life.

Over 1 million Israelis are out of work. Many cannot make ends meet. We provide financial aid, food, medical supplies and more. Funds are distributed where needed most. The time to act is now!

United with Israel