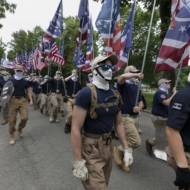 VIDEO: Jewish Man Chases Neo-Nazis Out of His Neighborhood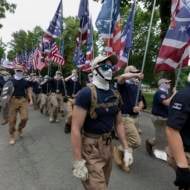 A Chicago man chased men out of his neighborhood who were placing stickers from the white supremacist group Patriot Front on signs and light posts.
Antisemitism is on the rise and attacks of all kinds are becoming more commonplace in the United States.
Over the weekend, a group of young men placed Patriot Front stickers on signs and light posts in Chicago, promoting the the white supremacist group.
Residents of the area were furious and one Jewish man took matters into his own hands, chasing the hatemongers out of his the community.
Do You Love Israel? Make a Donation to Show Your Support!
Donate to vital charities that protect Israelis and help inspire millions around the world to support Israel too!
Now more than ever, Israel needs your help to fight – and win – the battle of public opinion.
Anti-Israel bias and boycotts are out of control. Israel's enemies effectively use social media to incite brutal terror against innocent Israeli civilians. Please help us fight back!
The post WATCH: Jewish Man Chases Neo-Nazis Out of His Neighborhood first appeared on United with Israel.
United with Israel