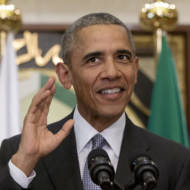 Veteran Saudi Diplomat Blasts Obama, Palestinian 'Failures'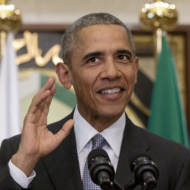 Former Saudi ambassador to Washington blasts Palestinian leadership for 'unacceptable' comments on Middle East peace.
By Yakir Benzion, United With Israel
A senior Saudi Arabian official compared the Palestinian leadership to Israel and concluded that while Israeli leaders are successful, the Palestinian leadership has failed its people miserably.
In an interview with the Al Arabiya television channel, Prince Bandar bin Sultan called out the Palestinian leadership for its historical and ongoing "failures," including its criticism of Gulf states following the signing of the historic Abraham Accords at the White House last month when the United Arab Emirates and Bahrain established diplomatic relations with Israel.
Prince Bandar is one of Saudi Arabia's top diplomats and security experts. He was the long-serving ambassador to the United States from 1983 to 2005 and also directed the Saudi national Intelligence Agency from 2012 to 2014 before before becoming the head of his country's National Security Council from 2005 to 2015.
During his almost three decades in Washington Prince Bandar formed close relationships with top American politicians including successive American presidents.
"What I heard from Palestinian leadership in recent days was truly painful to hear. This low level of discourse is not what we expect from officials who seek to gain global support for their cause," Bandar said in the Al Arabiya interview that is scheduled to air in full on October 5. "Their transgression against the Gulf states' leadership with this reprehensible discourse is unacceptable."
Even though UAE diplomats said they only signed the peace deal to get Israel to back down on applying sovereignty to Israeli settlements in Judea and Samaria, Palestinian leaders continued to bad mouth the Gulf leaders.
"The Palestinian cause is a just cause, but its advocates are failures. The Israeli cause is unjust, but its advocates are successful. That sums up the events of the last 70 or 75 years," Prince Bandar said.
In 2015 Bandar said U.S. President Barack Obama knowingly and intentionally made a bad deal to get the Iran nuclear deal. A public opinion poll conducted that year in Saudi Arabia concluded that the Saudi public was far more concerned about the threats of Iran and the Islamic State group than Israel.
HELP ISRAELIS BATTLE CORONA!
Donate to the Corona Emergency Relief Fund. Coronavirus has taken a huge toll on the people of Israel. The poor, elderly and ill are most vulnerable.

Israeli soldiers, security officers and medical care providers operate under great danger and risk to life.

Over 1 million Israelis are out of work. Many cannot make ends meet. We provide financial aid, food, medical supplies and more. Funds are distributed where needed most. The time to act is now!

United with Israel