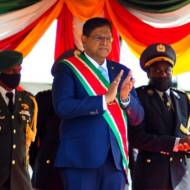 Suriname Reverses Itself on Planned Jerusalem Embassy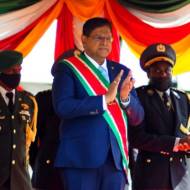 "There is no budget for setting up an embassy of Suriname in Israel."
By Pesach Benson, United with Israel
Surinamese President Chandrikapersad Santokhi told his country's legislature on Thursday that there is no money to establish an embassy in Jerusalem, reversing an announcement made in May.
Suriname is currently represented in Israel by a consulate in Tel Aviv.
"There is no budget for setting up an embassy of Suriname in Israel," Santokhi told the South American country's National Assembly.
He said that the decision was purely budgetary and did not rule out the possibility of a Jerusalem embassy sometime in the future.
During a visit to Israel in May, Foreign Minister Albert Ramdin said Suriname would upgrade its diplomatic presence with an embassy in Jerusalem.
The only countries currently maintaining embassies in Jerusalem are the U.S., Guatemala, Honduras and Kosovo. The Dominican Republic, Malawi, and Equatorial Guinea have announced their intentions to follow suit.
Most of the world does not recognize Jerusalem as Israel's capitol, maintaining embassies and consulates in the Tel Aviv area.
Israel and Surinam established diplomatic relations in 1976. An estimated 200-600 Jews live in Suriname.
Do You Love Israel? Make a Donation to Show Your Support!
Donate to vital charities that protect Israelis and help inspire millions around the world to support Israel too!
Now more than ever, Israel needs your help to fight – and win – the battle of public opinion.
Anti-Israel bias and boycotts are out of control. Israel's enemies effectively use social media to incite brutal terror against innocent Israeli civilians. Please help us fight back!
The post Suriname Reverses Itself on Planned Jerusalem Embassy first appeared on United with Israel.
United with Israel