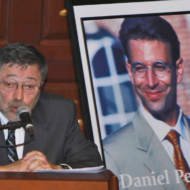 Pakistan Supreme Court Orders Release of Daniel Pearl's Murderer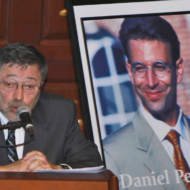 Pearl's family in 'complete shock' as the Islamist terrorist who beheaded the Jewish Wall Street Journal reporter is allowed to walk free.
By Yakir Benzion, United With Israel
The family of murdered American journalist Daniel Pearl was in "complete shock" Thursday after Pakistan's Supreme Court ordered the release of the Islamist terrorist who beheaded the Jewish journalist, the Wall Street Journal reported.
Ahmed Omar Saeed Sheikh was convicted of the 2002 kidnapping and murder of Pearl, a reporter for the Wall Street Journal, but was ordered released by a panel of three judges in the Islamic country.
The court decision was "effectively clearing him of wrongdoing in the case," the paper reported, upholding a lower court ruling that overturned Sheikh's kidnapping, terrorism and murder convictions. Sheikh has spent the last 18 years in prison for the crimes and the judges ordered him released from jail immediately, but Pakistani authorities have kept him behind bars since the lower court ruled last April that he be released.
Pearl was investigating Radical Islamists in Karachi after the September 11, 2001, attacks on the United States when he was kidnapped in January 2002.
A video emerged a few weeks later of his killing. Pearl was beheaded after delivering a short speech to the camera that ended with the words, "My father is Jewish, my mother is Jewish, I am Jewish."
"DOJ has said it is willing to intervene in the case, but it isn't clear how. Behind the scenes, US officials are pressing Pakistani authorities to keep the man convicted of orchestrating the kidnapping and killing of WSJ reporter Daniel Pearl in prison," tweeted WSJ reporter Sadie Gurman.
"The release of these killers puts in danger journalists everywhere and the people of Pakistan. We urge the US government to take all necessary actions under the law to correct this injustice," the family said in a statement. "We also hope that the Pakistani authorities will take all necessary steps to rectify this travesty of justice. No amount of injustice will defeat our resolve to fight for justice for Daniel Pearl."
HELP ISRAELIS BATTLE CORONA!
Donate to the Corona Emergency Relief Fund. Coronavirus has taken a huge toll on the people of Israel. The poor, elderly and ill are most vulnerable.

Israeli soldiers, security officers and medical care providers operate under great danger and risk to life.

Over 1 million Israelis are out of work. Many cannot make ends meet. We provide financial aid, food, medical supplies and more. Funds are distributed where needed most. The time to act is now!
The post Pakistan Supreme Court Orders Release of Daniel Pearl's Murderer first appeared on United with Israel.
United with Israel