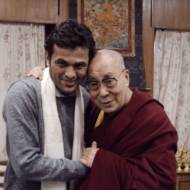 Gaza Peace Activist in Jail for 'Crime' of Talking with Israelis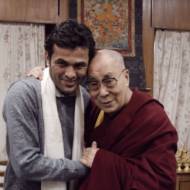 Hamas charges Rami Aman, arrested five months ago, with the "crime'"of talking peace with Israelis via Zoom.
By Yakir Benzion, United With Israel
Palestinian peace activist Rami Aman disappeared five months ago after he organized a Zoom video conference call with Israelis to talk about peace.
Hind Khoudary, who identified herself as an "international research consultant" for Amnesty International, ratted out Aman on Facebook, making sure that the Hamas terror group that controls Gaza with an iron fist got the information. Hamas arrested Aman, who disappeared without a trace.
Now it is confirmed that Aman has been in a Hamas jail. Last week, he and two other peace activists were charged with "weakening the evolutionary spirit," and they face up to 10 years in prison.
New York Times bureau chief David Halbfinger was on the Zoom conference and wrote about it and the arrest of Aman, a committed peace activist who met last year with the Dalai Lama, a Nobel Peace Prize winner.
"Back in April, I watched Rami Aman talk to Israelis, Americans and others about the hardship of life in Gaza and how he tried to hold onto hope. Hamas threw him in jail. Now it could be years before he gets out," Halbfinger tweeted.
In a page out of a George Orwell book, a Hamas spokesman said that talking to Israelis is "a crime punishable by law and a betrayal of our people and its sacrifices."
Last Monday, UN Watch led a coalition of 70 NGOs at the UN Human Rights Council (UNHRC) and demanded that the United Nations take action to get Aman released from jail.
UN Watch executive director Hillel Neuer told a UNHRC session in Geneva that his coalition included human rights groups from Japan, Bangladesh, Brazil, Canada, France, Ghana, India, Morocco, Netherlands, Nigeria, Pakistan, Switzerland, and other countries, all of whom support Aman.
Neuer said Aman's arrest by the Hamas terror group was "in flagrant violation of international law."
"Hamas's arbitrary and unlawful arrest and detention of Mr. Aman for the crime of 'normalization' is part of a pattern of repression and intimidation against dissidents who dare to speak out against the authoritarian regime," Neuer said.
"Our complaint seeks to hold Hamas — and the Palestinian Authority, which claims jurisdiction in Gaza — accountable for the wrongful imprisonment of Mr. Aman, a violation of international law and of Mr. Aman's universal human rights."
However, known as "the most biased of all UN groups" for its anti-Israel prejudice and inability to support human rights around the world, the UNHRC is not expected to take any action on Aman's behalf.
HELP ISRAELIS BATTLE CORONA!
Donate to the Corona Emergency Relief Fund. Coronavirus has taken a huge toll on the people of Israel. The poor, elderly and ill are most vulnerable.

Israeli soldiers, security officers and medical care providers operate under great danger and risk to life.

Over 1 million Israelis are out of work. Many cannot make ends meet. We provide financial aid, food, medical supplies and more. Funds are distributed where needed most. The time to act is now!

United with Israel